For food lovers who appreciate the rich and hearty flavors of New Orleans cuisine, a classic dish like Red Beans and Rice holds a special place in the heart. But what if you're following a vegetarian diet? Fear not, because we've got an Authentic Red Beans Vegetarian Recipe that captures all the savory goodness of the traditional dish without any meat. In this blog post, we'll guide you through creating a mouthwatering red beans recipe that's sure to satisfy your taste buds and warm your soul. Let's dive into the world of vegetarian comfort food!
Red Beans Vegetarian Recipe Ingredients:
2 cups dried red kidney beans
1 large onion, diced
2 cloves garlic, minced
2 celery stalks, diced
1 green bell pepper, diced
2 bay leaves
2 teaspoons dried thyme
1 teaspoon smoked paprika
1/2 teaspoon cayenne pepper (adjust to taste)
Salt and black pepper to taste
4 cups vegetable broth (or water)
2 tablespoons olive oil
Cooked white or brown rice (for serving)
Chopped fresh parsley (for garnish)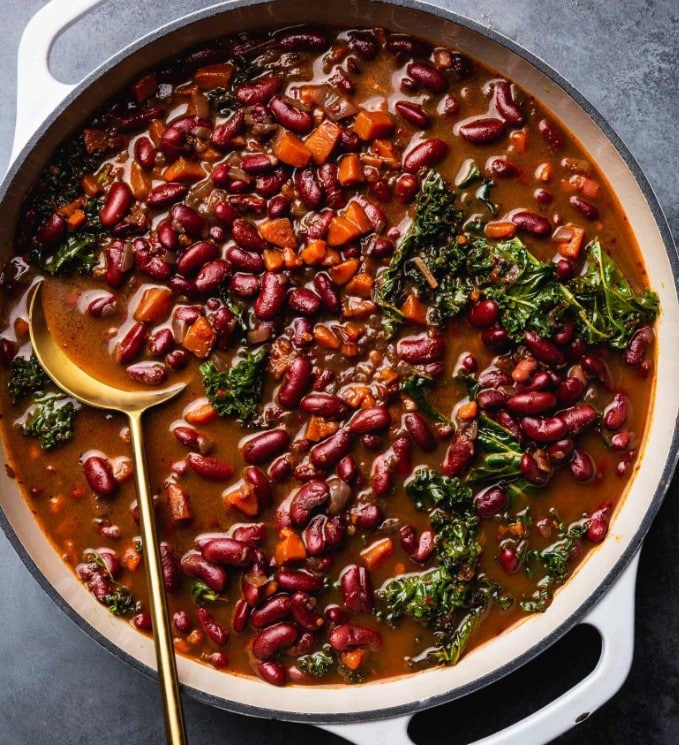 Red Beans Vegetarian Recipe Instructions:
Preparing the Red Beans:
Soak the Beans:

Start by soaking the dried red kidney beans. Place them in a large bowl and cover them with water. Allow them to soak overnight or for at least 6-8 hours. This will help soften the beans and reduce cooking time.

Drain and Rinse:

Drain and rinse the soaked beans thoroughly before cooking.
Making the Red Beans:
Sauté the Aromatics:

In a large pot, heat the olive oil over medium heat.
Add the diced onion, minced garlic, diced celery, and diced green bell pepper. Sauté for about 5-7 minutes or until the vegetables become tender.

Add Seasonings:

Stir in the bay leaves, dried thyme, smoked paprika, cayenne pepper, salt, and black pepper. Cook for an additional 2-3 minutes to allow the spices to become fragrant.

Cook the Beans:

Add the soaked and drained red kidney beans to the pot.
Pour in the vegetable broth (or water) to cover the beans.
Bring the mixture to a boil, then reduce the heat to low, cover, and simmer for about 1.5 to 2 hours, or until the beans are tender. Be sure to stir occasionally and add more liquid if needed.

Mash Some Beans:

To thicken the red beans, remove about a cup of cooked beans and mash them with a fork or potato masher. Return the mashed beans to the pot and stir to combine.

Serve and Garnish:

Remove the bay leaves from the pot.
Serve the red beans over cooked white or brown rice.
Garnish with chopped fresh parsley for a burst of color and freshness.
This Authentic Red Beans Vegetarian Recipe captures the essence of traditional New Orleans cuisine while staying true to a vegetarian lifestyle. The combination of creamy red beans and savory spices served over a bed of rice is a true delight for food lovers.
Recommended Recipe: The Perfect Carne Asada Torta Recipe for a Mexican-inspired Brunch
So there you have it – a flavorful and satisfying Red Beans Vegetarian Recipe that's perfect for those who appreciate the warmth and comfort of New Orleans cuisine. Whether you're a vegetarian or simply looking to enjoy a meatless meal, this red beans recipe is a delicious choice. Savor the rich flavors and hearty goodness of this beloved dish!