If you're looking for a delightful and healthy vegetarian dish, Butternut Squash Stuffed Shells are an excellent choice. These stuffed shells are not only delicious but also packed with nutrients, making them a perfect option for a satisfying and wholesome meal. In this blog post, we'll share a step-by-step recipe for Butternut Squash Stuffed Shells, so you can enjoy a taste of comfort and nutrition in every bite.
Butternut Squash Stuffed Shells Ingredients:
For the Butternut Squash Filling:
2 cups butternut squash, peeled, seeded, and cubed
1 tablespoon olive oil
Salt and black pepper to taste
1/4 teaspoon ground nutmeg
1/2 cup ricotta cheese
1/4 cup grated Parmesan cheese
1/4 cup shredded mozzarella cheese
1 egg
1 clove garlic, minced
1 tablespoon fresh sage leaves, chopped
For the Stuffed Shells:
24 jumbo pasta shells, cooked and drained
2 cups marinara sauce
1/2 cup shredded mozzarella cheese (for topping)
Fresh basil leaves for garnish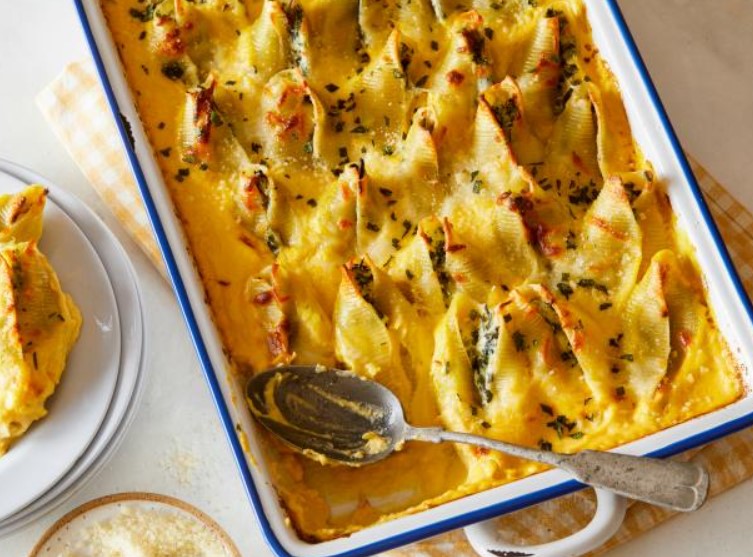 Butternut Squash Stuffed Shells Instructions:
Step 1: Roast the Butternut Squash
Preheat your oven to 400°F (200°C).
Toss the butternut squash cubes with olive oil, salt, black pepper, and ground nutmeg.
Spread the seasoned squash on a baking sheet and roast for about 25-30 minutes or until it's tender and lightly caramelized.
Step 2: Prepare the Filling
In a bowl, mash the roasted butternut squash with a fork.
Add ricotta cheese, Parmesan cheese, mozzarella cheese, egg, minced garlic, and chopped fresh sage. Mix until well combined.
Step 3: Stuff the Pasta Shells
Fill each cooked pasta shell with the butternut squash mixture.
Step 4: Assemble and Bake
Spread a thin layer of marinara sauce in the bottom of a baking dish.
Arrange the stuffed pasta shells in the dish.
Pour the remaining marinara sauce over the top of the shells.
Sprinkle with mozzarella cheese.
Cover the dish with aluminum foil and bake at 375°F (190°C) for 20-25 minutes.
Remove the foil and bake for an additional 10 minutes, or until the cheese is bubbly and golden.
Step 5: Serve and Garnish
Garnish your Butternut Squash Stuffed Shells with fresh basil leaves before serving.
Step 6: Enjoy
These stuffed shells are best enjoyed fresh from the oven. They are a fantastic combination of creamy butternut squash, cheesy goodness, and perfectly cooked pasta.
Recommended Recipe: How to Make a Flavorful Tuscan Chicken Wrap
Butternut Squash Stuffed Shells are a healthy option that's sure to satisfy your taste buds while providing the nutritional benefits of butternut squash. Whether you're cooking for yourself, your family, or guests, this dish is a crowd-pleaser that showcases the flavors of the season in a delightful and nutritious way.