When you're looking for a fast, wholesome, and satisfying meal, a Vegetarian Stuffed Sweet Potato is the way to go. Loaded with a variety of flavorful ingredients, these sweet potatoes are a canvas for creativity. In this blog post, we'll provide you with a straightforward and delicious recipe for making Vegetarian Stuffed Sweet Potatoes, featuring both the ingredients and a step-by-step guide to get you started.
Vegetarian Stuffed Sweet Potato Recipe Ingredients:
For the Stuffed Sweet Potatoes:
4 medium sweet potatoes
1 can (15 ounces) black beans, drained and rinsed
1 cup corn kernels (fresh, frozen, or canned)
1 cup cherry tomatoes, halved
1/2 red onion, finely chopped
1/2 cup shredded cheddar cheese (or your favorite cheese)
1/4 cup fresh cilantro, chopped (for garnish)
Olive oil, for drizzling
Salt and pepper to taste
For the Avocado Crema:
1 ripe avocado
1/4 cup sour cream (or Greek yogurt for a lighter option)
Juice of 1 lime
Salt and pepper to taste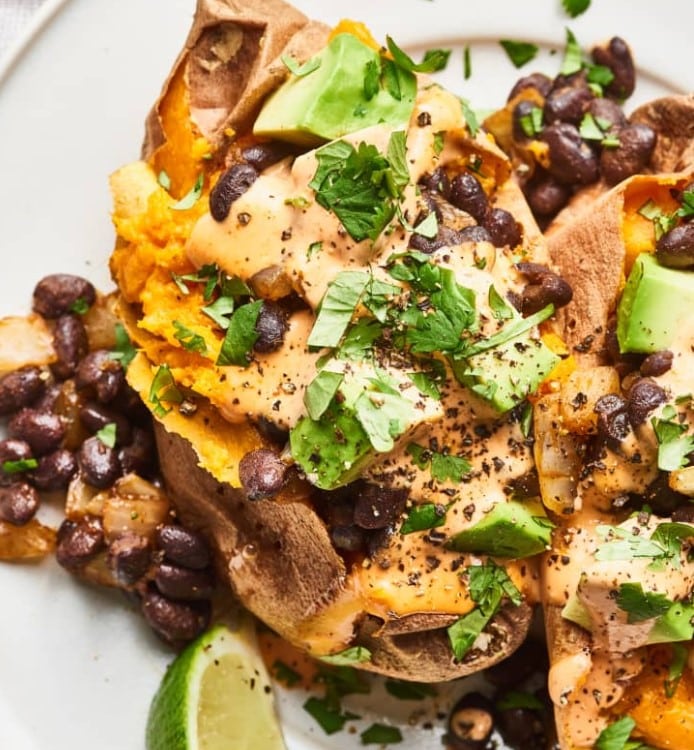 Vegetarian Stuffed Sweet Potato Recipe Instructions:
Step 1: Prepare the Sweet Potatoes
Preheat your oven to 400°F (200°C).
Wash the sweet potatoes and prick them a few times with a fork to allow steam to escape during baking.
Place the sweet potatoes on a baking sheet, drizzle them with olive oil, and sprinkle with salt and pepper.
Bake in the preheated oven for about 45-60 minutes, or until they are tender and easily pierced with a fork.
Step 2: Make the Avocado Crema
While the sweet potatoes are baking, prepare the avocado crema. In a blender or food processor, combine the ripe avocado, sour cream (or Greek yogurt), lime juice, salt, and pepper. Blend until smooth and creamy.
Step 3: Assemble the Stuffed Sweet Potatoes
In a large bowl, combine the drained black beans, corn kernels, halved cherry tomatoes, finely chopped red onion, and shredded cheddar cheese.
Once the sweet potatoes are fully baked, make a lengthwise cut along the top of each one. Fluff the insides with a fork.
Spoon the bean and vegetable mixture into each sweet potato, filling them generously.
Step 4: Serve and Garnish
Drizzle the stuffed sweet potatoes with the avocado crema, and sprinkle fresh cilantro on top for a burst of flavor and color.
Serve your Vegetarian Stuffed Sweet Potatoes hot and enjoy!
These stuffed sweet potatoes are a delightful combination of textures and flavors, making them the perfect choice for a quick and wholesome meal. Plus, they are incredibly customizable, so feel free to add your favorite toppings and ingredients.
Recommended Recipe: Quick and Tasty Vegetarian Cheese Straws Recipe
So there you have it – a straightforward and delicious recipe for Vegetarian Stuffed Sweet Potatoes. It's a meal that's not only quick and easy but also full of flavor and satisfaction. Happy cooking!