If you're a dessert lover and a vegetarian, you're in for a treat! In this blog post, we'll be sharing a delectable Vegetarian Cheesecake Recipe that's both healthy and indulgent. Whether you're a long-time vegetarian or just looking for a scrumptious dessert option, this recipe is sure to satisfy your sweet tooth. So, let's dive right in and learn how to create a mouthwatering Vegetarian Cheesecake that will leave you craving for more.
Vegetarian Cheesecake Recipe Ingredients:
For the Crust:
1 1/2 cups of almond flour
1/4 cup of coconut oil, melted
2 tablespoons of maple syrup
A pinch of salt
For the Filling:
2 cups of plain Greek yogurt (or a dairy-free alternative)
1 package (8 oz) of cream cheese (or a vegan cream cheese substitute)
1/2 cup of granulated sugar or a sugar substitute like Stevia
2 teaspoons of pure vanilla extract
3 large eggs (or flaxseed eggs for a vegan option)
For the Topping:
Your choice of fresh berries or a fruit compote
A drizzle of honey or maple syrup for extra sweetness (optional)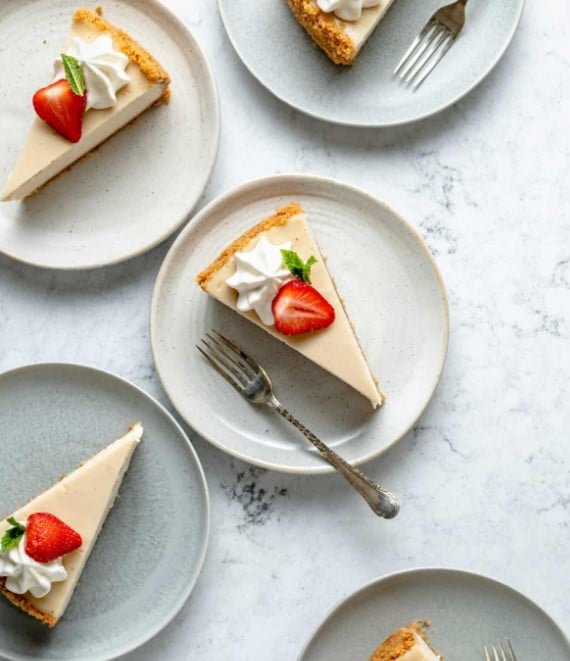 Vegetarian Cheesecake Recipe Instructions:
1. Preheat the Oven:
Preheat your oven to 325°F (160°C).
2. Prepare the Crust:
In a mixing bowl, combine almond flour, melted coconut oil, maple syrup, and a pinch of salt.
Press the mixture into the bottom of a 9-inch (23 cm) springform pan to create an even crust. You can use the back of a spoon to help with this.
3. Prepare the Filling:
In a separate mixing bowl, beat the cream cheese until it's smooth and creamy.
Add the Greek yogurt (or dairy-free alternative), granulated sugar (or sugar substitute), and vanilla extract. Mix until everything is well combined.
Beat in the eggs, one at a time, until the filling is smooth and silky.
4. Assemble and Bake:
Pour the cheesecake filling over the crust in the springform pan.
Smooth the top with a spatula to ensure an even surface.
Bake in the preheated oven for 45-50 minutes, or until the edges are set, and the center is slightly jiggly.
5. Cool and Chill:
Once baked, remove the cheesecake from the oven and allow it to cool at room temperature for about 15-20 minutes.
Then, refrigerate the cheesecake for at least 4 hours, or overnight if possible. Chilling helps it set properly.
6. Add the Topping:
Before serving, top your Vegetarian Cheesecake with your choice of fresh berries or a fruit compote.
Optionally, drizzle a bit of honey or maple syrup for added sweetness.
Recommended Dessert Recipe: How to Make Homemade Vegetarian Fruit Snacks
There you have it – a delightful and nutritious Vegetarian Cheesecake that's perfect for satisfying your dessert cravings while staying true to your vegetarian lifestyle. This recipe is not only delicious but also a healthier alternative to traditional cheesecakes. Give it a try, and you'll be coming back for seconds!
Enjoy your Healthy and Indulgent Vegetarian Cheesecake Recipe. Bon appétit!