Crunchy Noodle Salad is a delightful and wholesome side dish that adds a refreshing crunch to any meal. Whether you're looking for a quick and easy salad to accompany your main course or a light and satisfying lunch, this salad has you covered. In this blog post, we'll share a Crunchy Noodle Salad recipe that's not only delicious but also offers a satisfying crunch in every bite.
Crunchy Noodle Salad Ingredients:
For the Salad:
8 ounces (about 225g) thin spaghetti or angel hair pasta
2 cups shredded green cabbage
1 cup shredded purple cabbage
1 cup shredded carrots
1 red bell pepper, thinly sliced
3 green onions, thinly sliced
1/4 cup chopped fresh cilantro
1/4 cup chopped fresh mint
1/4 cup chopped roasted peanuts
1/4 cup sesame seeds
For the Dressing:
1/4 cup soy sauce
3 tablespoons rice vinegar
2 tablespoons sesame oil
1 tablespoon honey (or a suitable alternative like agave syrup for a vegan version)
1 clove garlic, minced
1/2 teaspoon fresh ginger, grated
Red pepper flakes (optional, for a hint of heat)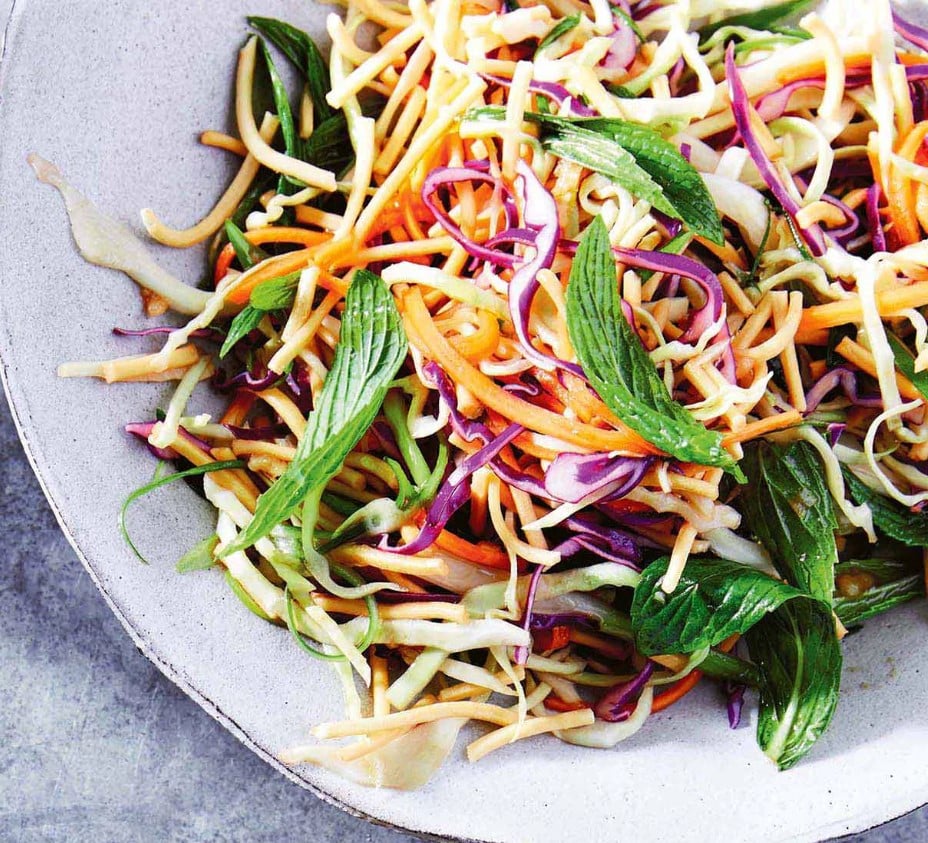 Crunchy Noodle Salad Instructions:
Step 1: Prepare the Salad
Cook the thin spaghetti or angel hair pasta according to the package instructions. Drain and rinse with cold water. Set aside.
In a large bowl, combine the shredded green cabbage, purple cabbage, shredded carrots, red bell pepper, green onions, cilantro, mint, chopped roasted peanuts, and sesame seeds.
Add the cooked and cooled pasta to the bowl with the vegetables.
Step 2: Make the Dressing
In a separate bowl, whisk together the soy sauce, rice vinegar, sesame oil, honey (or your chosen sweetener), minced garlic, grated ginger, and red pepper flakes (if you want a hint of heat). Mix until the dressing is well combined.
Step 3: Toss and Serve
Drizzle the dressing over the salad and toss everything together until the salad is evenly coated with the dressing.
Allow the salad to sit for a few minutes to let the flavors meld.
Step 4: Enjoy the Crunch
Serve your Crunchy Noodle Salad as a refreshing side dish or a satisfying standalone meal.
This Crunchy Noodle Salad is a delightful blend of textures and flavors. The crispness of the vegetables, the crunch of the noodles, and the savory-sweet dressing come together to create a side dish that's both healthy and satisfying.
Recommended Recipe: Healthy and Flavourful Vegetarian Protein Salad Recipe for Weight Loss
So, whether you're preparing it for a family dinner or a quick lunch, Crunchy Noodle Salad is a recipe that's sure to add a refreshing and healthy crunch to your meals. Enjoy!