As the winter season unfolds and temperatures drop, there's nothing quite like a warm and hearty bowl of soup to provide comfort and nourishment. Our Vegetarian Lentil Soup Recipe is the ideal choice for those cozy winter evenings when you crave a wholesome and delicious meal. This soup is not only satisfying but also packed with essential nutrients. In this blog post, we'll share this flavorful lentil soup recipe, complete with ingredients and step-by-step instructions, to help you create the perfect winter comfort food.
Vegetarian Lentil Soup Recipe Ingredients:
1 cup dried green or brown lentils, rinsed and drained
2 tablespoons olive oil
1 onion, finely chopped
2 carrots, diced
2 celery stalks, diced
3 cloves garlic, minced
1 can (14 ounces) diced tomatoes
6 cups vegetable broth
1 teaspoon ground cumin
1 teaspoon ground coriander
1/2 teaspoon smoked paprika
1 bay leaf
Salt and black pepper to taste
Fresh lemon juice (from 1 lemon)
Fresh parsley, chopped (for garnish)
Crusty bread (for serving, optional)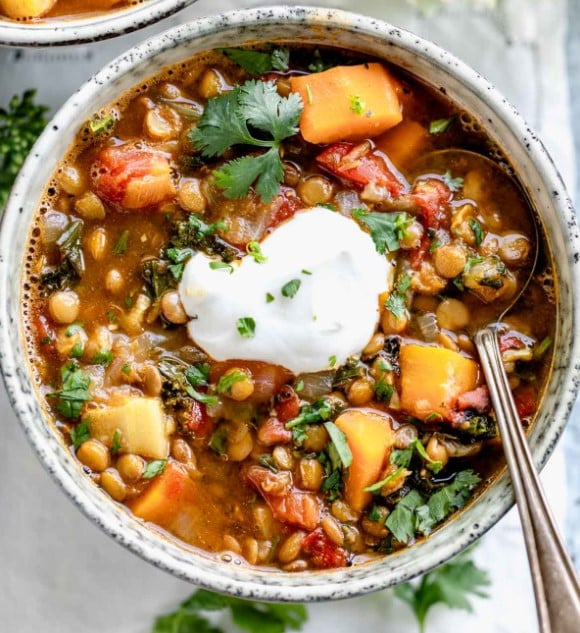 Vegetarian Lentil Soup Recipe Instructions:
Sauté the Aromatics:

In a large pot, heat the olive oil over medium heat.
Add the finely chopped onion, diced carrots, and diced celery.
Sauté for about 5 minutes or until the vegetables begin to soften.
Add the minced garlic and sauté for an additional 1-2 minutes until fragrant.

Add Lentils and Spices:

Stir in the rinsed lentils, ground cumin, ground coriander, smoked paprika, and the bay leaf.
Cook for 1-2 minutes, allowing the spices to become fragrant.

Pour in Broth and Tomatoes:

Add the diced tomatoes (with their juices) to the pot and pour in the vegetable broth.
Stir well to combine all the ingredients.

Simmer:

Bring the mixture to a boil, then reduce the heat to low, cover the pot, and let it simmer for about 25-30 minutes or until the lentils are tender.

Season and Finish:

Remove the bay leaf from the soup and discard it.
Season the soup with salt and black pepper to taste.
Squeeze the juice of one lemon into the soup and stir well.

Serve:

Ladle the hot Vegetarian Lentil Soup into bowls.
Garnish each serving with chopped fresh parsley.
Serve with crusty bread if desired for a complete winter comfort meal.
Recommended Soup Recipe: Chili's Baked Potato Soup: A Comforting Winter Dish
This Vegetarian Lentil Soup Recipe offers a comforting blend of flavors and textures, making it the perfect choice for warming up on a cold winter day. The combination of lentils, vegetables, and aromatic spices creates a hearty and nutritious soup that's sure to please.
So there you have it – a delightful and healthy Vegetarian Lentil Soup Recipe that's perfect for cozy winter nights. Enjoy the warmth and flavor of this comforting bowl of soup, and let it become your go-to winter comfort food!