If you're in need of a delicious and quick vegetarian meal option, look no further! In this blog post, we'll be sharing a delightful Vegetarian Penne Arrabbiata Recipe that not only satisfies your taste buds but also comes together in no time. Whether you're a busy professional, a student with limited cooking time, or simply craving a hearty Italian dish, this recipe is a must-try.
Vegetarian Penne Arrabbiata Recipe Ingredients:
For the Penne Arrabbiata:
12 oz (340g) penne pasta (use whole wheat or gluten-free pasta if preferred)
2 tablespoons olive oil
3 cloves garlic, minced
1/2 teaspoon red pepper flakes (adjust to your spice preference)
1 can (14 oz/400g) crushed tomatoes
1 teaspoon dried oregano
Salt and black pepper to taste
Fresh basil leaves, chopped (for garnish)
Grated Parmesan cheese (or a vegan alternative) for serving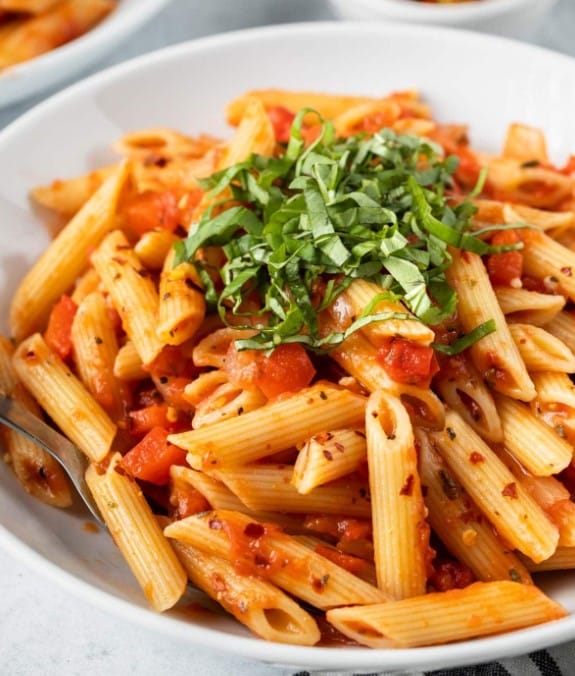 Vegetarian Penne Arrabbiata Recipe Instructions:
1. Cook the Pasta:
Begin by cooking the penne pasta according to the package instructions until al dente. Drain and set aside.
2. Prepare the Sauce:
In a large skillet, heat the olive oil over medium heat.
Add minced garlic and red pepper flakes to the skillet. Sauté for about a minute until the garlic becomes fragrant.
3. Add Tomatoes and Seasonings:
Pour in the can of crushed tomatoes and dried oregano. Stir well to combine.
Season the sauce with salt and black pepper to taste. Allow it to simmer for about 10-15 minutes, allowing the flavors to meld and the sauce to thicken.
4. Combine Pasta and Sauce:
Add the cooked penne pasta to the skillet with the Arrabbiata sauce.
Toss everything together, ensuring that the pasta is evenly coated with the flavorful sauce.
5. Serve and Garnish:
Transfer your Vegetarian Penne Arrabbiata to serving plates.
Garnish with chopped fresh basil leaves for a burst of color and flavor.
Optionally, sprinkle with grated Parmesan cheese or your favorite vegan cheese alternative.
6. Enjoy!
Your quick and tasty Vegetarian Penne Arrabbiata is ready to be enjoyed. Serve it hot and savor the delicious Italian flavors.
With this Vegetarian Penne Arrabbiata Recipe, you can whip up a satisfying meal in minutes. The spicy and tangy tomato sauce paired with perfectly cooked pasta makes for a delightful combination. Plus, it's a vegetarian dish that even non-vegetarians will love. Make it for lunch or dinner when you're short on time but still want a comforting, homemade meal.
Recommended Recipe: Easy and Healthy Vegetarian Lasagna Recipe
Vegetarian Penne Arrabbiata Recipe – the ideal solution for busy days when you crave a taste of Italy without the fuss.