If you're craving the bold and savory flavors of teriyaki but prefer a meatless option, our "Teriyaki Vegetarian Recipe" is the perfect solution for your taste buds. In this blog post, we'll guide you through creating a delectable teriyaki dish that's not only packed with flavor but also healthy and satisfying. Get ready to savor the umami goodness of teriyaki in a plant-based delight!
Teriyaki Vegetarian Recipe Ingredients:
For this Tasty Teriyaki Vegetarian Recipe, you will need:
For the Teriyaki Sauce:
1/2 cup of soy sauce (or tamari for a gluten-free option)
1/4 cup of water
3 tablespoons of brown sugar
2 tablespoons of rice vinegar
1 tablespoon of mirin (Japanese sweet rice wine)
1 clove of garlic, minced
1 teaspoon of grated fresh ginger
1 teaspoon of cornstarch (mixed with 1 tablespoon of water to create a slurry)
For the Teriyaki Stir-Fry:
1 block of firm tofu, cubed
2 cups of broccoli florets
1 red bell pepper, sliced
1 carrot, sliced into thin strips
1 cup of snow peas, trimmed
2 tablespoons of vegetable oil
Cooked rice (white or brown) for serving
Sesame seeds and chopped green onions for garnish (optional)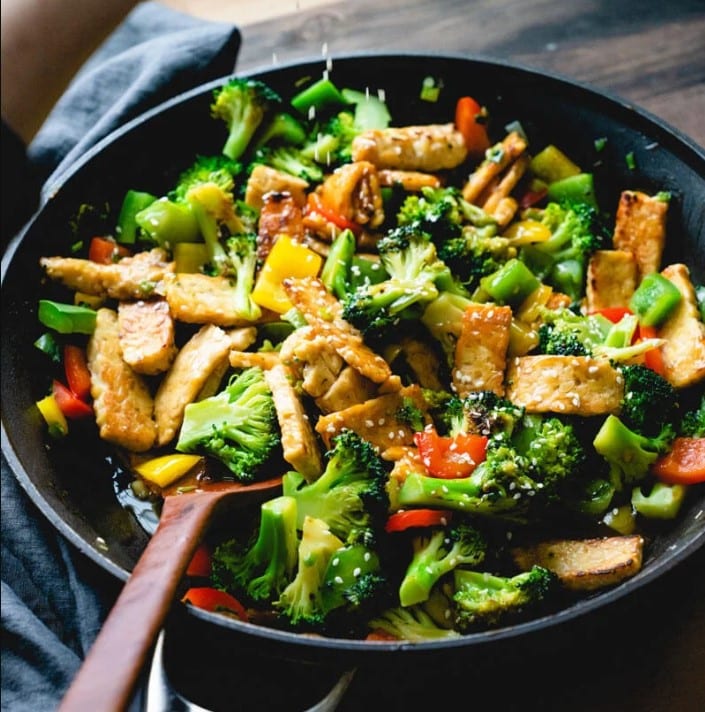 Teriyaki Vegetarian Recipe Instructions:
1. Prepare the Teriyaki Sauce:
In a small saucepan, combine the soy sauce, water, brown sugar, rice vinegar, mirin, minced garlic, and grated fresh ginger. Bring the mixture to a simmer over medium heat.
In a separate bowl, create a slurry by mixing the cornstarch with water. Add this slurry to the simmering sauce and stir continuously until the sauce thickens. This should take about 2-3 minutes. Once thickened, remove the saucepan from heat.
2. Cook the Tofu and Vegetables:
In a large skillet or wok, heat the vegetable oil over medium-high heat. Add the cubed tofu and stir-fry until it becomes golden brown on all sides. Remove the tofu from the skillet and set it aside.
In the same skillet, add the broccoli florets, sliced red bell pepper, sliced carrot, and trimmed snow peas. Stir-fry the vegetables until they become tender-crisp, which should take about 5-7 minutes.
3. Combine and Serve:
Return the cooked tofu to the skillet with the stir-fried vegetables.
Pour the prepared teriyaki sauce over the tofu and vegetables. Stir well to coat everything in the savory sauce.
Let the mixture simmer for an additional 2-3 minutes, allowing the flavors to meld.
4. To Serve:
Serve your Tasty Teriyaki Vegetarian dish over cooked rice.
Garnish with sesame seeds and chopped green onions if desired.
Recommended Recipe: 2 Must-Try Vegetarian Chick Pea Recipes 
Now you have a Tasty Teriyaki Vegetarian dish that's both delicious and nutritious, offering all the savory satisfaction of traditional teriyaki without the meat. Whether you're a dedicated vegetarian or simply looking to explore plant-based options, this recipe is sure to delight your taste buds and become a healthy favorite in your meal rotation. Enjoy the flavorful journey of teriyaki!