Better Together Chocolate Birthday Cake Recipe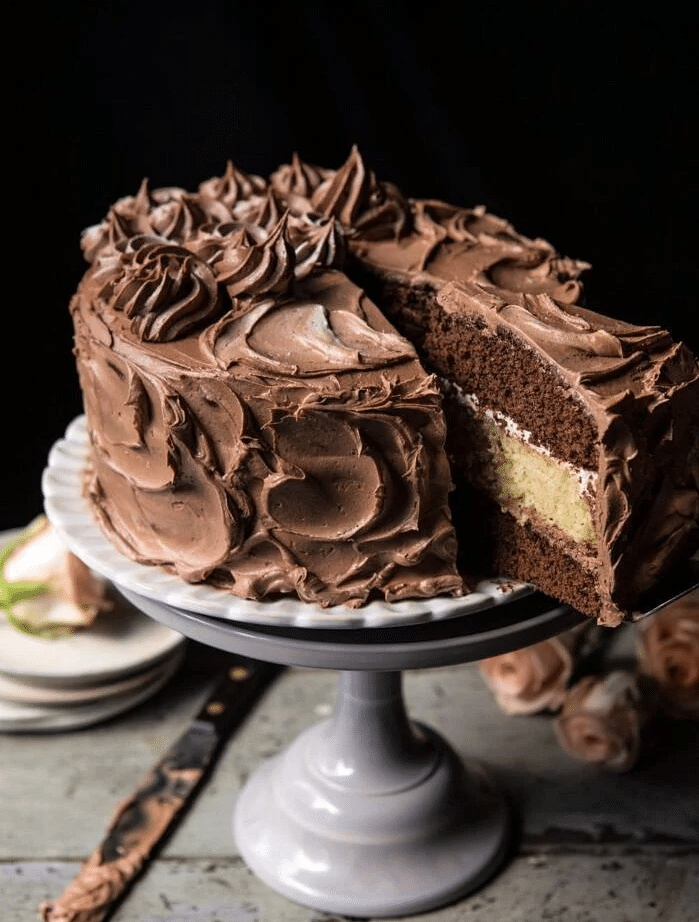 Celebrate special moments with a cake that's a true embodiment of joy and togetherness – the Better Together Chocolate Birthday Cake. This decadent masterpiece combines rich chocolate flavors with layers of velvety frosting, creating a dessert that's perfect for birthdays and all kinds of celebrations. Get ready to create a memorable and delicious experience for your loved ones.
Ingredients:
For the Cake:
2 cups all-purpose flour
2 cups granulated sugar
3/4 cup unsweetened cocoa powder
1 1/2 teaspoons baking powder
1 1/2 teaspoons baking soda
1 teaspoon salt
2 large eggs
1 cup whole milk
1/2 cup vegetable oil
2 teaspoons pure vanilla extract
1 cup boiling water
For the Frosting:
1 cup unsalted butter, softened
4 cups powdered sugar
1/2 cup unsweetened cocoa powder
1/4 cup whole milk
2 teaspoons pure vanilla extract
For Assembly and Decoration:
Chocolate shavings
Fresh berries
Edible glitter (optional)
Instructions:
1. Preheat the Oven: Preheat your oven to 350°F (175°C) and grease and flour two 9-inch round cake pans.
2. Mix Dry Ingredients: In a large mixing bowl, whisk together flour, granulated sugar, cocoa powder, baking powder, baking soda, and salt until well combined.
3. Add Wet Ingredients: Add eggs, milk, vegetable oil, and vanilla extract to the dry mixture. Beat on medium speed for about 2 minutes until the batter is smooth.
4. Incorporate Boiling Water: Stir in the boiling water to the batter. The batter will be thin, but don't worry – this is what makes the cake moist and rich.
5. Bake the Cake: Pour the batter evenly into the prepared cake pans. Bake for 30-35 minutes or until a toothpick inserted into the center of the cakes comes out clean. Allow the cakes to cool in the pans for 10 minutes, then transfer them to wire racks to cool completely.
6. Prepare the Frosting: In a mixing bowl, beat softened butter until creamy. Gradually add powdered sugar and cocoa powder, alternating with milk and vanilla extract. Beat on medium-high speed until the frosting is smooth and fluffy.
7. Assemble the Cake: Place one cake layer on a serving platter and spread a layer of frosting over the top. Carefully place the second cake layer on top and frost the top and sides of the cake with the remaining frosting.
8. Decorate and Celebrate: Decorate the cake with chocolate shavings, fresh berries, and a touch of edible glitter for a festive touch. Let your creativity shine as you make the cake uniquely yours.
9. Slice and Share the Joy: Once decorated, slice into this masterpiece and share the joy with your loved ones. Each bite of the Better Together Chocolate Birthday Cake is a symphony of flavors that will make your celebration truly special.
Indulge in the delightful union of chocolatey goodness and the warmth of togetherness with the Better Together Chocolate Birthday Cake. Whether it's a birthday, anniversary, or any special occasion, this cake is a testament to the joy that comes from sharing life's sweet moments.
You can check this detailed website for the same recipe. You'll love it. Also you can look at our content for cakes vs snacks.