When winter's chill sets in, there's nothing like a steaming bowl of Thai Curry Vegetable Soup to warm you up from the inside out. This comforting and aromatic soup combines the rich and spicy flavors of Thai curry with an abundance of fresh vegetables. It's the perfect way to chase away the cold and satisfy your taste buds. In this blog post, we'll share our favorite Thai Curry Vegetable Soup recipe, complete with ingredients and step-by-step instructions, so you can enjoy a taste of Thailand right in your own kitchen.
Thai Curry Vegetable Soup Ingredients:
For the Soup:
1 tablespoon vegetable oil
1 onion, diced
2 cloves garlic, minced
2 tablespoons Thai red curry paste
4 cups vegetable broth
1 can (14 ounces) coconut milk
2 tablespoons soy sauce
1 tablespoon brown sugar
1 tablespoon freshly grated ginger
1 tablespoon lemongrass paste (optional)
2 cups mixed vegetables (such as bell peppers, carrots, broccoli, and snow peas)
1 cup sliced mushrooms
1 cup cubed tofu or protein of your choice (optional)
Salt and pepper to taste
Fresh cilantro leaves, for garnish
Lime wedges, for serving
Cooked rice or noodles (optional, for serving)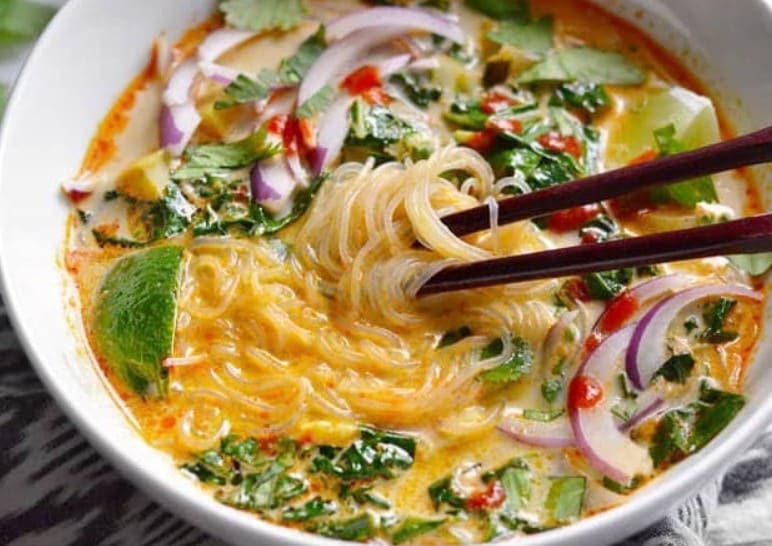 Thai Curry Vegetable Soup Instructions:
Sauté the Aromatics:

In a large pot, heat the vegetable oil over medium heat.
Add the diced onion and minced garlic. Sauté for about 2-3 minutes until they become fragrant.

Add Curry Paste and Cook:

Stir in the Thai red curry paste and cook for an additional 1-2 minutes to release its flavors.

Pour in Broth and Coconut Milk:

Pour in the vegetable broth and coconut milk, and stir to combine.
Add the soy sauce, brown sugar, freshly grated ginger, and lemongrass paste (if using). Stir well.

Simmer the Soup:

Bring the soup to a gentle simmer, then cover and let it cook for about 10 minutes to allow the flavors to meld.

Add Vegetables and Protein:

Add the mixed vegetables, sliced mushrooms, and cubed tofu or protein of your choice (if using) to the simmering soup.
Cook for an additional 5-7 minutes or until the vegetables are tender and the protein is cooked through.

Season and Serve:

Season the soup with salt and pepper to taste.
Ladle the Thai Curry Vegetable Soup into bowls.
Garnish each serving with fresh cilantro leaves and serve with lime wedges on the side.
Optionally, serve over cooked rice or noodles for a heartier meal.
Recommended Recipe: Vegetarian Lentil Soup Recipe: A Perfect Winter Comfort Food
Thai Curry Vegetable Soup Tips:
Adjust the level of spiciness by adding more or less Thai red curry paste.
Customize the vegetables to your liking or based on what's in season.
For an extra kick, you can add a dash of Sriracha sauce or red pepper flakes.
This Thai Curry Vegetable Soup is a true comfort food, packed with vibrant flavors and a touch of heat that will keep you warm and satisfied on even the coldest winter days.
So there you have it – the best Thai Curry Vegetable Soup recipe to enjoy during the winter season. Let the delightful flavors of Thai cuisine fill your home with warmth and comfort!