If you're in search of a speedy and wholesome meal that's both satisfying and vegetarian, look no further than our Vegetarian Ramen Recipe. In this blog post, we'll walk you through creating a quick and healthy ramen dish that's brimming with flavor and perfect for those busy weeknights. Get ready to savor the delightful world of homemade ramen!
Vegetarian Ramen Recipe Ingredients:
For this delicious Vegetarian Ramen Recipe, you will need:
For the Broth:
8 cups of vegetable broth
4 cloves of garlic, minced
1-inch piece of ginger, grated
2 tablespoons of soy sauce
1 tablespoon of miso paste
1 tablespoon of sesame oil
1 teaspoon of rice vinegar
Salt and black pepper to taste
For the Ramen Bowl:
8 ounces of ramen noodles (or any preferred noodles)
1 cup of sliced shiitake mushrooms
1 cup of sliced bok choy or baby bok choy
1 cup of sliced carrots
1 cup of sliced green onions
1 cup of firm tofu, cubed and pan-fried (optional)
Soft-boiled or poached eggs (optional)
Nori seaweed sheets, torn into pieces (optional)
Sriracha sauce or chili oil for extra heat (optional)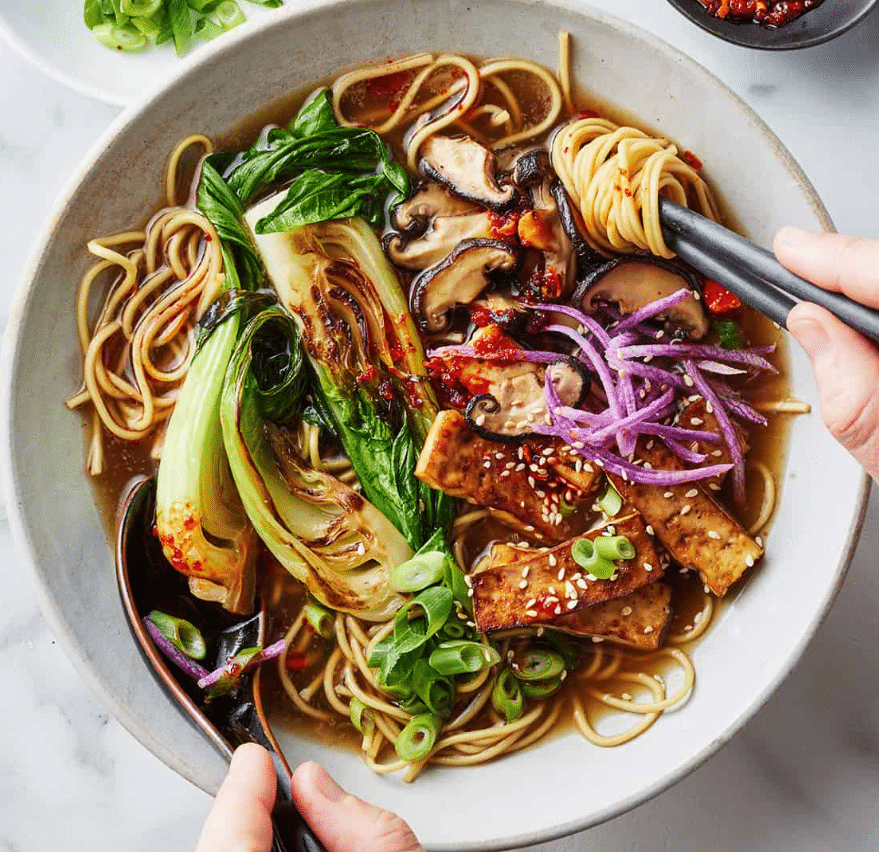 Vegetarian Ramen Recipe Instructions:
1. Prepare the Broth:
In a large pot, combine the vegetable broth, minced garlic, grated ginger, soy sauce, miso paste, sesame oil, rice vinegar, salt, and black pepper.
Bring the mixture to a boil, then reduce the heat to low and let it simmer for 10-15 minutes. This allows the flavors to meld together. Taste and adjust the seasoning if needed. Set the broth aside.
2. Cook the Noodles:
Cook the ramen noodles (or your preferred noodles) according to the package instructions. Drain and set aside.
3. Assemble the Ramen Bowls:
In serving bowls, divide the cooked ramen noodles evenly.
Arrange the sliced shiitake mushrooms, sliced bok choy, sliced carrots, and sliced green onions on top of the noodles.
If desired, add pan-fried tofu cubes and a soft-boiled or poached egg to each bowl.
4. Pour the hot broth over the ingredients in each bowl.
5. Garnish with torn nori seaweed sheets and a drizzle of Sriracha sauce or chili oil for added heat (if desired).
Recommended Vegetarian Recipe: Cheesy and Flavorful Vegetarian Enchilada Recipe
Now you have a piping hot bowl of quick and healthy Vegetarian Ramen, ready to delight your taste buds. Whether you enjoy it as a speedy weeknight dinner or a comforting lunch, this ramen recipe is the perfect blend of convenience and deliciousness. Warm up with a bowl of homemade goodness today!