When it comes to satisfying your savory cravings, few snacks can compete with the delightful crunch and cheesy goodness of Vegetarian Cheese Straws Recipe. These crispy treats are not only incredibly tasty but also quick and easy to make. Whether you're looking for a delightful party appetizer or a savory snack to enjoy with a cup of tea, this Vegetarian Cheese Straws Recipe is a winner. In this blog post, we'll share this simple yet scrumptious recipe, complete with ingredients and step-by-step instructions, so you can whip up a batch in no time.
Vegetarian Cheese Straws Recipe Ingredients:
1 sheet of puff pastry (store-bought or homemade)
1 cup grated cheddar cheese (or your favorite cheese)
1/4 cup grated Parmesan cheese
1 teaspoon paprika
1/2 teaspoon garlic powder
1/2 teaspoon dried thyme (optional)
Salt and black pepper to taste
1 egg (for egg wash)
Sesame seeds or poppy seeds (optional, for topping)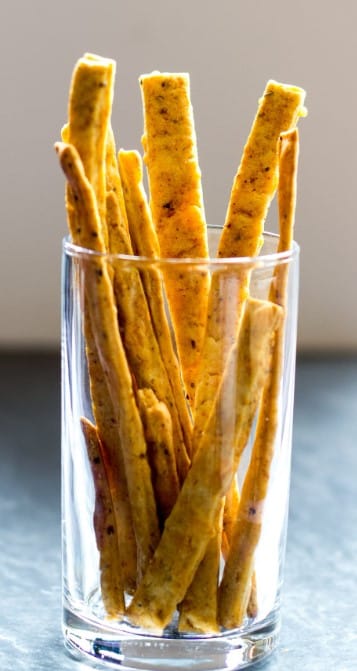 Vegetarian Cheese Straws Recipe Instructions:
Preheat the Oven:

Preheat your oven to 375°F (190°C) and line a baking sheet with parchment paper.

Prepare the Puff Pastry:

If using frozen puff pastry, follow the package instructions to thaw it. If using homemade pastry, roll it out on a floured surface into a rectangular shape, about 1/8 inch thick.

Add Cheese and Seasonings:

Sprinkle the grated cheddar cheese and grated Parmesan cheese evenly over the puff pastry.
Evenly distribute the paprika, garlic powder, dried thyme (if using), salt, and black pepper over the cheese.

Fold and Roll:

Carefully fold the puff pastry in half lengthwise, sandwiching the cheese and seasonings inside.
Use a rolling pin to gently roll over the folded pastry to seal it and flatten it slightly.

Cut into Straws:

Use a sharp knife or a pizza cutter to slice the pastry into thin strips, about 1/2 inch wide.

Twist and Arrange:

Take each strip and twist it gently, then place it on the prepared baking sheet.
If desired, brush each twisted strip with a beaten egg for a golden finish and sprinkle with sesame seeds or poppy seeds.

Bake:

Bake in the preheated oven for about 12-15 minutes or until the cheese straws are golden brown and crispy.

Cool and Serve:

Allow the Vegetarian Cheese Straws to cool for a few minutes on a wire rack.
Serve them warm or at room temperature as a delicious snack or appetizer.
These quick and tasty Vegetarian Cheese Straws are perfect for any occasion. Their savory and cheesy flavor makes them a hit with both kids and adults. Plus, they are incredibly easy to customize by adding your favorite herbs and spices.
Recommended Recipe: Vegetarian Lentil Soup Recipe: A Perfect Winter Comfort Food
So there you have it – a simple and delectable Vegetarian Cheese Straws Recipe that's sure to please your taste buds. Enjoy these cheesy delights as a satisfying snack or a crowd-pleasing party appetizer!