If you're on the hunt for a satisfying and wholesome vegetarian meal, look no further than our Easy and Healthy Vegetarian Lasagna Recipe. This dish is a delightful twist on the classic lasagna, without the need for meat. Packed with layers of delicious vegetables, cheese, and perfectly cooked lasagna noodles, it's a comfort food favorite that will leave you wanting more. In this blog post, we'll guide you through creating this mouthwatering lasagna recipe, complete with ingredients and instructions, for a delightful dining experience.
Vegetarian Lasagna Recipe Ingredients:
For the Lasagna:
9 lasagna noodles (oven-ready or regular, cooked according to package instructions)
2 cups part-skim ricotta cheese
2 cups shredded mozzarella cheese
1 cup grated Parmesan cheese
2 cups fresh spinach leaves
2 cups sliced mushrooms
1 red bell pepper, diced
1 zucchini, diced
1 small eggplant, diced
1 can (24 ounces) of marinara sauce
2 cloves garlic, minced
1 teaspoon dried basil
1 teaspoon dried oregano
Salt and black pepper to taste
Olive oil for sautéing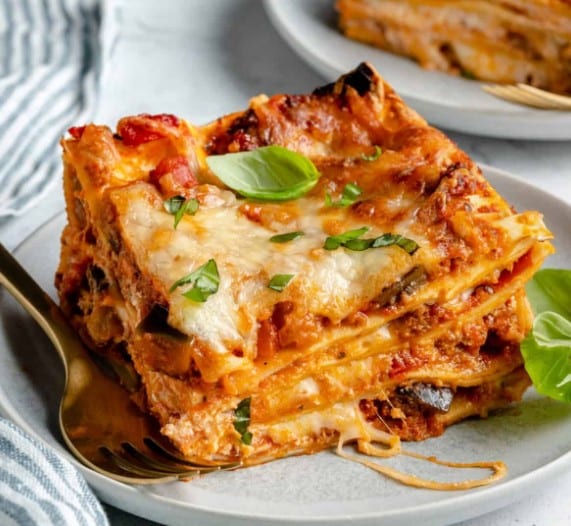 Vegetarian Lasagna Recipe Instructions:
Sauté the Vegetables:

In a large skillet, heat some olive oil over medium heat.
Add the minced garlic, sliced mushrooms, diced red bell pepper, diced zucchini, and diced eggplant.
Sauté the vegetables until they become tender, about 5-7 minutes.
Season with dried basil, dried oregano, salt, and black pepper. Stir well to coat the vegetables in the seasoning.

Prepare the Lasagna Noodles:

Cook the lasagna noodles according to the package instructions until they are al dente. Drain and set aside.

Layer the Lasagna:

Preheat your oven to 375°F (190°C).
In a large baking dish, spread a thin layer of marinara sauce on the bottom to prevent sticking.
Place 3 lasagna noodles on top of the sauce.
Spread half of the ricotta cheese over the noodles, followed by half of the sautéed vegetables, half of the fresh spinach, and a portion of the mozzarella and Parmesan cheeses.
Repeat this layering process with the remaining ingredients, finishing with a layer of sauce and a generous sprinkle of mozzarella and Parmesan cheese on top.

Bake: Cover the baking dish with aluminum foil and bake in the preheated oven for 30 minutes. Then, remove the foil and bake for an additional 10-15 minutes until the cheese is bubbly and golden.
Rest and Serve: Allow the lasagna to rest for a few minutes before slicing and serving. This helps to set the layers and makes it easier to serve.
Enjoy: Serve your delicious and healthy Vegetarian Lasagna with a fresh salad or garlic bread for a complete meal.
This Easy and Healthy Vegetarian Lasagna Recipe is a crowd-pleaser that's perfect for a family dinner or any occasion when you're craving a comforting and nutritious meal. It's a delightful way to enjoy the flavors of lasagna without the meat.
Recommended Recipe: Authentic Red Beans Vegetarian Recipe for Food Lovers
So there you have it – a mouthwatering Vegetarian Lasagna Recipe that's both easy to make and incredibly delicious. Savor the layers of vegetables and cheese in every bite, and enjoy a hearty and satisfying meal that's sure to become a favorite in your household!