Vegetarian Yellow Curry with Fresh Vegetables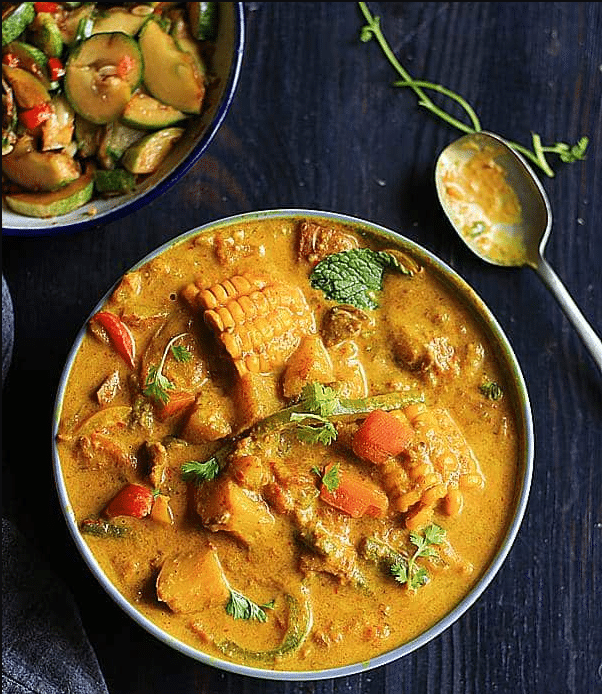 Vegetarian Yellow Curry Ingredients:
For the Curry Paste:
2 tablespoons yellow curry paste (store-bought or homemade)
1 tablespoon grated fresh ginger
3 cloves garlic, minced
For the Curry:
2 tablespoons vegetable oil
1 onion, thinly sliced
2 carrots, peeled and sliced
1 red bell pepper, thinly sliced
1 yellow bell pepper, thinly sliced
1 zucchini, sliced
1 cup cauliflower florets
1 cup broccoli florets
1 can (14 oz/400ml) coconut milk
1 cup vegetable broth
2 tablespoons soy sauce
1 tablespoon brown sugar or coconut sugar
1 tablespoon curry powder
1 teaspoon turmeric powder
Salt and pepper to taste
Fresh cilantro leaves, for garnish
Lime wedges, for serving
Cooked jasmine rice or rice noodles, for serving
Vegetarian Yellow Curry Instructions:
Prepare the Curry Paste:

In a small bowl, mix together the yellow curry paste, grated ginger, and minced garlic to create the curry paste mixture. Set aside.

Cook the Curry:

In a large pot or deep skillet, heat the vegetable oil over medium heat. Add the sliced onion and sauté until translucent, about 2-3 minutes.

Add Vegetables:

Add the sliced carrots, red and yellow bell peppers, zucchini, cauliflower, and broccoli to the pot. Sauté the vegetables for about 5-7 minutes, until they start to soften.

Add Curry Paste and Spices:

Push the vegetables to the side of the pot and add the curry paste mixture to the open space. Stir the curry paste in the hot oil for about 1-2 minutes to release its flavors. Then, mix it with the vegetables.

Add Coconut Milk and Broth:

Pour in the coconut milk and vegetable broth. Stir to combine the ingredients.

Season and Simmer:

Add the soy sauce, brown sugar (or coconut sugar), curry powder, turmeric powder, salt, and pepper. Stir well. Bring the mixture to a gentle simmer.

Simmer and Serve:

Let the curry simmer for about 10-15 minutes, allowing the flavors to meld and the vegetables to become tender.

Garnish and Serve:

Once the vegetables are cooked to your desired level of tenderness, taste and adjust the seasoning if needed. Serve the curry over cooked jasmine rice or rice noodles. Garnish with fresh cilantro leaves and lime wedges.

Enjoy:

Enjoy your aromatic and flavorful vegetarian yellow curry with fresh vegetables!
Feel free to customize the vegetables to your liking or what's in season. You can also adjust the spice level by adding more or less curry paste or chili if you prefer.
You can check this website for detailed recipe of "Yellow Curry".