Savory Vegetable Puff Pastry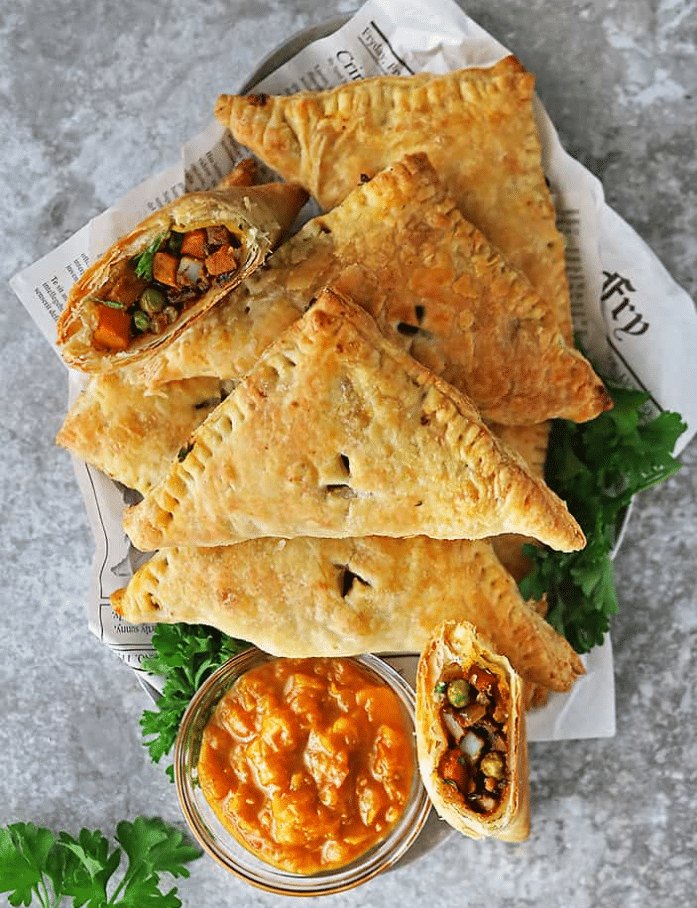 Savory Vegetable Puff Pastry Ingredients:
1 sheet of puff pastry (thawed if using frozen)
1 tablespoon olive oil
1 small onion, finely chopped
2 cloves garlic, minced
1 bell pepper (any color), diced
1 zucchini, diced
1 cup mushrooms, sliced
1 cup spinach or kale, chopped
1 teaspoon dried thyme
1/2 teaspoon dried oregano
Salt and pepper to taste
1/2 cup shredded cheese (cheddar, mozzarella, or your choice)
1 egg, beaten (for egg wash)
Sesame seeds or poppy seeds (optional, for topping)
Savory Vegetable Puff Pastry Instructions:
Preheat Oven:

Preheat your oven according to the puff pastry package instructions, usually around 375°F (190°C).

Prepare the Vegetables:

In a large skillet, heat the olive oil over medium heat. Add the chopped onion and sauté until translucent, about 2-3 minutes.
Add the minced garlic and sauté for an additional 1 minute.
Add the diced bell pepper, zucchini, mushrooms, and cook for about 5-7 minutes until the vegetables are tender and any excess moisture has evaporated.
Stir in the chopped spinach or kale, dried thyme, dried oregano, salt, and pepper. Cook for an additional 2 minutes until the greens are wilted. Remove from heat and let the mixture cool slightly.

Assemble the Pastry:

Roll out the puff pastry sheet on a lightly floured surface to smooth out any creases and slightly enlarge it. Cut the sheet into desired shapes (rectangles or squares) depending on your preference.
Place a spoonful of the vegetable mixture on one half of each pastry shape, leaving a small border around the edges.
Sprinkle a little shredded cheese over the vegetable mixture.

Fold and Seal:

Fold the other half of the pastry over the filling to create a triangle or rectangle shape. Press the edges together with a fork to seal the pastry.

Egg Wash and Bake:

Brush the top of each pastry with beaten egg for a golden finish. You can also sprinkle sesame seeds or poppy seeds on top if desired.
Place the filled pastries on a baking sheet lined with parchment paper.

Bake:

Bake in the preheated oven for about 15-20 minutes, or until the pastry is golden brown and puffed up.

Serve:

Remove from the oven and let the pastries cool slightly before serving. They are delicious served warm!
Enjoy: Enjoy your savory vegetable puff pastry as a flavorful appetizer, snack, or light meal. You can easily customize this recipe by using your favorite vegetables and seasonings.
You can check this recipe for more details.