Discover the delectable world of vegetarian cuisine with our easy and mouthwatering Vegetarian Tostada Recipe. Packed with an array of fresh and vibrant ingredients, this flavorful twist on the classic Mexican dish is not only a treat for your taste buds but also a great option for those following a meatless lifestyle. In this blog post, we will share the ingredients you will need to recreate this delightful dish and guide you through the step-by-step directions. Get ready to indulge in a satisfying meal bursting with delicious flavors and wholesome goodness!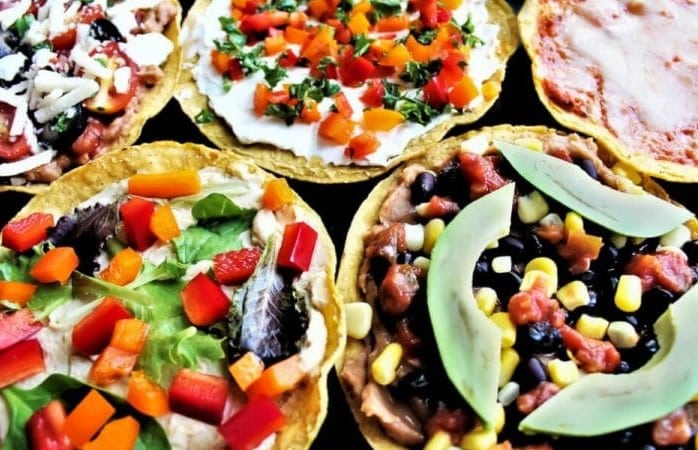 Are you looking for a delicious and satisfying vegetarian meal? Look no further! This vegetarian tostada recipe is packed with flavor and is sure to please even the pickiest eaters. Whether you are a seasoned vegetarian or simply looking to incorporate more plant-based meals into your diet, this recipe is a must-try. So, let's dive into the mouthwatering ingredients that make up this scrumptious dish!
Vegetarian Tostada Recipe Ingredients:
4 corn tortillas
1 can of black beans, drained and rinsed
1 cup of diced tomatoes
1/2 cup of diced red onion
1/2 cup of sliced black olives
1/4 cup of chopped cilantro
1 avocado, sliced
1 tablespoon of lime juice
1 teaspoon of cumin
1 teaspoon of chili powder
Salt and pepper to taste
Suggestion Content: Mouthwatering Vegetarian Tamale Recipe
Vegetarian Tostada Recipe Directions:
Prepare the tortillas: Preheat your oven to 400°F (200°C). Place the corn tortillas on a baking sheet and lightly brush each side with olive oil. Bake for about 10 minutes or until they become crispy.
Prepare the black beans: In a small saucepan, heat the black beans over medium heat. Add the cumin, chili powder, salt, and pepper. Stir well and let it simmer for about 5 minutes.
Assemble the tostadas: Once the tortillas are crispy, spread a layer of the seasoned black beans on each one. Top with diced tomatoes, red onion, black olives, and sliced avocado.
Add the finishing touches: Drizzle lime juice over the assembled tostadas and sprinkle with chopped cilantro. Feel free to add any additional toppings you desire, such as hot sauce or shredded cheese.
Enjoy: Serve your Vegetarian Tostadas immediately and savor the delicious flavors of this meatless masterpiece. It can be enjoyed as a main course, appetizer, or even as a party snack.
With this simple and tasty Vegetarian Tostada recipe, you can easily add more plant-based meals to your diet. It's a versatile dish that allows you to get creative with your toppings, making it perfect for customizing to your preferences. Give it a try and experience the goodness of a vegetarian meal that doesn't compromise on flavor!