Satisfy your taste buds with a delicious twist on a classic Mexican dish – vegetarian nachos! Packed with vibrant flavors and nutritious ingredients, these Mexican-inspired nachos are the perfect appetizer or main course for any occasion. In this blog post, we'll explore the mouthwatering ingredients that make these nachos so special and provide a detailed description of what makes them a must-try dish. Whether you're a meat lover or a dedicated vegetarian, these nachos are sure to please everyone at the table. So get ready to indulge in a fiesta of flavors that will leave you craving for more!
Mexican-Inspired Vegetarian Nachos Ingredients
When it comes to satisfying your cravings for a delicious and flavorful Mexican-inspired dish, look no further than these mouthwatering vegetarian nachos. Packed with wholesome ingredients, these nachos are not only a delightful choice for vegetarians but also a crowd-pleaser for everyone. So, let's dive into the ingredients that will bring these nachos to life!
1. Tortilla Chips: The foundation of any great plate of nachos starts with crispy tortilla chips. Opt for thick and sturdy chips that can hold up well under the weight of the toppings.
2. Black Beans: Adding protein-rich black beans not only provides a hearty element to the nachos but also brings a savory and earthy flavor to the dish. Rinse and drain a can of black beans to remove excess sodium.
3. Cheese: It's time to get cheesy! Choose a variety of shredded cheese such as cheddar or Monterey Jack for that delectable melty goodness. Feel free to use a vegan cheese alternative if you prefer a vegan-friendly version.
4. Fresh Vegetables: Enhance the nutritional value of your nachos by incorporating a colorful mix of fresh vegetables. Diced tomatoes, sliced bell peppers, and chopped red onions not only add vibrant hues but also provide a refreshing crunch.
5. Jalapeños: If you love a bit of heat, don't forget to include some sliced jalapeños. Be mindful of the spice level and adjust according to your preference. Remember to remove the seeds for a milder kick.
| Ingredients: | Quantity: |
| --- | --- |
| Tortilla Chips | 1 bag |
| Black Beans | 1 can |
| Cheese | 1 cup |
| Fresh Vegetables | 1 cup (diced) |
| Jalapeños | 1-2 (sliced) |
Now that you've gathered all the ingredients, it's time to assemble your Mexican-inspired vegetarian nachos. Layer the tortilla chips on a baking sheet, followed by a generous sprinkle of black beans, cheese, fresh vegetables, and jalapeños. Repeat this layering process until you have used up all the ingredients.
Preheat your oven to 375°F (190°C) and bake the nachos for about 10-15 minutes or until the cheese has melted and is bubbling. Keep a close eye on them to prevent burning.
Once the nachos are out of the oven, you can further customize them by adding toppings such as sliced avocado, sour cream, or a squeeze of lime juice. Serve them hot and enjoy the delightful combination of flavors and textures in each mouthful.
These Mexican-inspired vegetarian nachos are not only perfect for a quick and delicious meal but also make a fantastic option for gatherings or parties. So, gather your friends or family, and indulge in this irresistible treat!
Mexican-Inspired Vegetarian Nachos Description
| Step | Description |
| --- | --- |
| 1 | Preheat your oven to 350°F (175°C). Arrange a layer of tortilla chips on a baking sheet. |
| 2 | Evenly distribute the black beans, diced tomatoes, red onion, jalapeno peppers, and corn kernels over the tortilla chips. |
| 3 | Sprinkle the shredded cheddar cheese over the nachos, ensuring all the ingredients are well-covered. |
| 4 | Place the baking sheet in the preheated oven and bake for approximately 10-12 minutes, or until the cheese has melted and the nachos are heated through. |
| 5 | Remove the nachos from the oven and let them cool slightly. Top with sliced avocado, chopped cilantro, sour cream, and salsa. |
| 6 | Serve the Mexican-inspired vegetarian nachos immediately and enjoy! |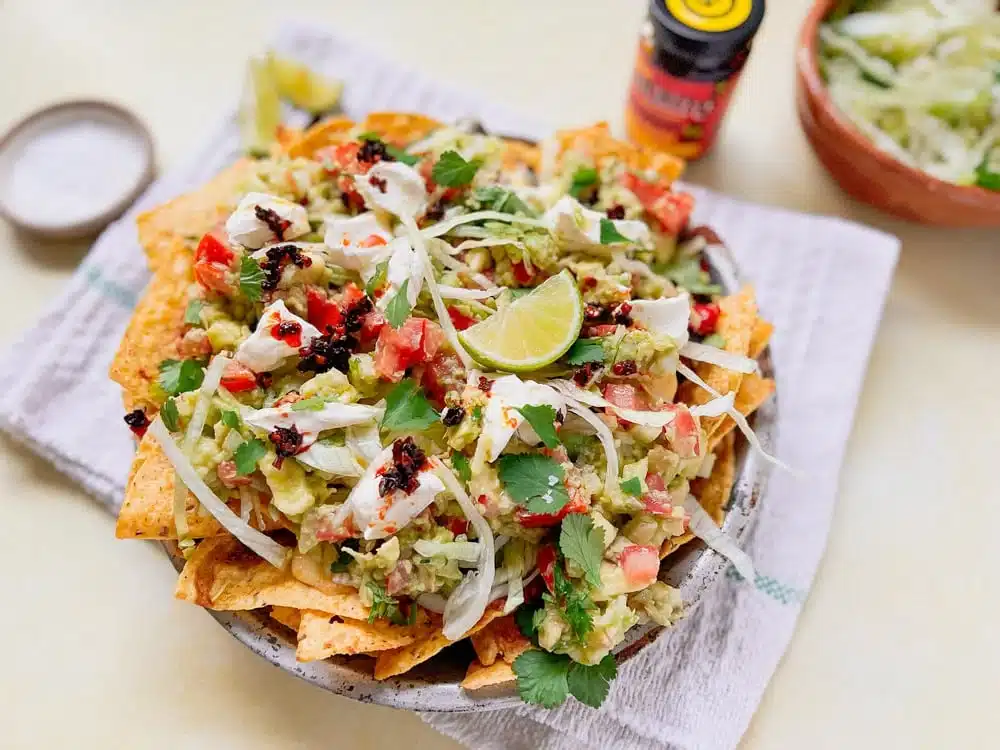 These vegetarian nachos are the perfect blend of crunchy tortilla chips, flavorful vegetables, and gooey cheese. The combination of black beans, tomatoes, onion, jalapenos, and corn adds a burst of freshness and Mexican authenticity to this classic dish. The melted cheddar cheese adds a satisfying richness, while the sliced avocado and sour cream provide a creamy and cooling contrast. Don't forget to top it off with your favorite salsa for an extra kick of flavor.
Whether you're hosting a game night, having a movie marathon, or simply craving a tasty snack, these Mexican-inspired vegetarian nachos are a crowd-pleaser. They are not only delicious but also incredibly easy to make. So gather your ingredients, follow the simple steps, and enjoy a plateful of nacho goodness that will transport you straight to the flavors of Mexico.
Also you can check this detailed website for "Vegetarian Nachos Recipe" and for another veggy recipes,you can check our another contents. For example "How to Make Vegetarian Mofongo Recipe".