Start your mornings with a burst of flavor and creativity by indulging in a truly satisfying treat – a Vegetarian Breakfast Pizza Recipe. This innovative twist on a classic favorite combines the goodness of a hearty breakfast with the beloved flavors of pizza. Whether you're a dedicated vegetarian or simply seeking a fresh and exciting morning meal, this recipe will surely become a delightful addition to your breakfast repertoire.
Vegetarian Breakfast Pizza Recipe: A Fusion of Delight
Exploring the Dish: The Vegetarian Breakfast Pizza Recipe is a culinary masterpiece that bridges the gap between two beloved meals. Imagine the perfect harmony of crispy crust, creamy eggs, and vibrant vegetables, all topped with a blanket of melted cheese. This pizza isn't just a dish – it's a culinary adventure that sets the tone for a fantastic day ahead.
Ingredients:
Gather the following ingredients to create your own delectable Vegetarian Breakfast Pizza Recipe:
Pizza Dough: 1 pre-made dough or your favorite homemade recipe.
Eggs: 4 large eggs, whisked and seasoned.
Colorful Bell Peppers: A mix of diced red, green, and yellow bell peppers.
Onion Elegance: 1 small onion, thinly sliced for a touch of sweetness.
Cherry Tomatoes: 1 cup of halved cherry tomatoes, bursting with freshness.
Creamy Cheese: 1 cup shredded mozzarella cheese, for that classic pizza indulgence.
Fresh Spinach: A handful of baby spinach leaves, adding a nutritious element.
Flavorful Herbs: Chopped fresh basil and oregano, enhancing the aroma.
Olive Oil: 2 tablespoons for sautéing and drizzling.
Salt and Pepper: To season the eggs and veggies to perfection.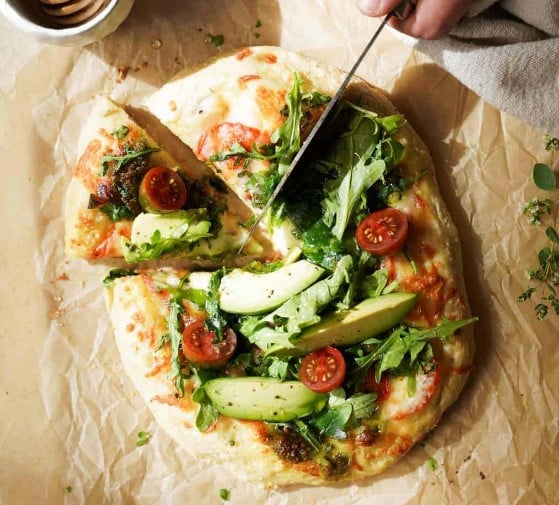 Directions:
Now, let's dive into the simple steps to craft your flavorful Vegetarian Breakfast Pizza:
Preheat your oven according to the pizza dough instructions.
Roll out the pizza dough onto a baking sheet, creating your desired thickness.
Heat olive oil in a skillet over medium heat and sauté the sliced onions until they caramelize.
Add the diced bell peppers to the skillet, cooking until they're slightly tender.
Pour in the whisked eggs, gently stirring to create creamy scrambled eggs infused with colorful vegetables.
Season the eggs with salt, pepper, and the chopped fresh herbs, infusing them with delightful flavors.
Spread the scrambled eggs evenly over the prepared pizza dough, creating a luscious base.
Scatter halved cherry tomatoes and baby spinach leaves on top, adding pops of color and freshness.
Generously sprinkle the shredded mozzarella cheese over the entire pizza.
Place the pizza in the preheated oven and bake according to the dough instructions, until the cheese is golden and bubbly.
Once out of the oven, drizzle a bit of olive oil over the pizza and garnish with additional fresh herbs.
Conclusion: A Perfect Morning Delight
With this Vegetarian Breakfast Pizza Recipe, mornings are no longer mundane. It's a symphony of flavors that dances on your taste buds, combining the essence of breakfast and the allure of pizza into a single bite. Whether you're enjoying a leisurely weekend brunch or fueling up for a busy day, this pizza is a satisfying way to begin anew. Craft your own culinary masterpiece and embrace the fusion of goodness that is Vegetarian Breakfast Pizza Recipe.