Looking for a delicious and nutritious vegetarian recipe? Well, you're in luck! Today, we're going to share with you the directions for preparing a mouthwatering Vegetarian Turnip Greens Recipe. This hearty dish is packed with flavor and is perfect for both veggie lovers and health enthusiasts alike.
Vegetarian Turnip Greens Recipe Ingredients
To start off, let's take a look at the ingredients you'll need for this recipe:
2 bunches of fresh turnip greens
1 tablespoon of olive oil
3 cloves of garlic, minced
1 onion, diced
1 red bell pepper, chopped
1 teaspoon of smoked paprika
½ teaspoon of cumin
Salt and pepper to taste
1 cup of vegetable broth
2 tablespoons of lemon juice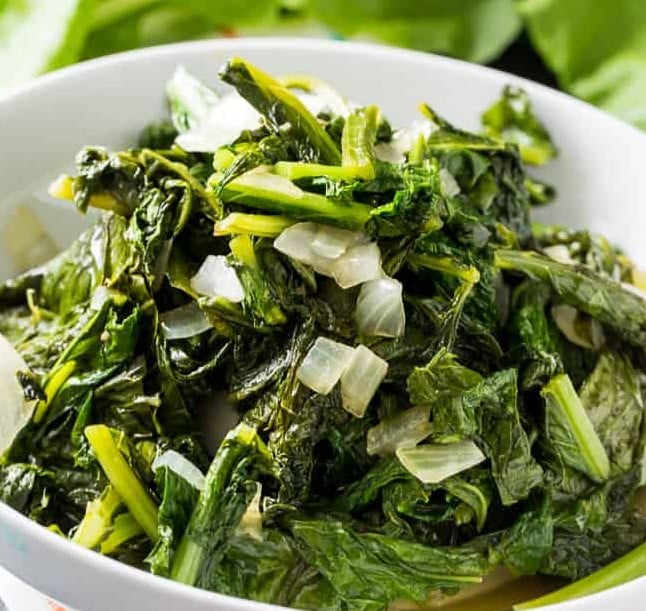 Vegetarian Turnip Greens Recipe Directions
Once you have gathered all the ingredients, it's time to move on to the cooking process. Follow these step-by-step directions:
| | |
| --- | --- |
| Step 1: | Wash the turnip greens thoroughly under cold water to remove any dirt or grit. Trim off any tough stems and chop the greens into bite-sized pieces. |
| Step 2: | In a large skillet, heat the olive oil over medium heat. Add the minced garlic, diced onion, and chopped red bell pepper. Sauté them until they are softened and slightly caramelized. |
| Step 3: | Sprinkle the smoked paprika, cumin, salt, and pepper over the sautéed vegetables. Stir well to coat them evenly with the spices. |
| Step 4: | Add the chopped turnip greens to the skillet and sauté them with the seasoned vegetables for about 2 minutes, until they begin to wilt. |
| Step 5: | Pour the vegetable broth into the skillet and bring it to a simmer. Reduce the heat to low and cover the skillet, allowing the greens to cook for 15-20 minutes. |
| Step 6: | After the greens have cooked down and become tender, drizzle the lemon juice over the top. Give everything a final stir to combine the flavors. |
| Step 7: | Remove the skillet from heat and transfer the Vegetarian Turnip Greens to a serving dish. |
Suggestion Content: Satisfying Vegetarian Potato Soup Recipes
There you have it! A simple yet delicious Vegetarian Turnip Greens Recipe that you can effortlessly prepare at home. Serve it as a side dish or enjoy it as a main course with your favorite grain or protein. Bon appétit!