Top 10 Vegetarian Soup Suggestions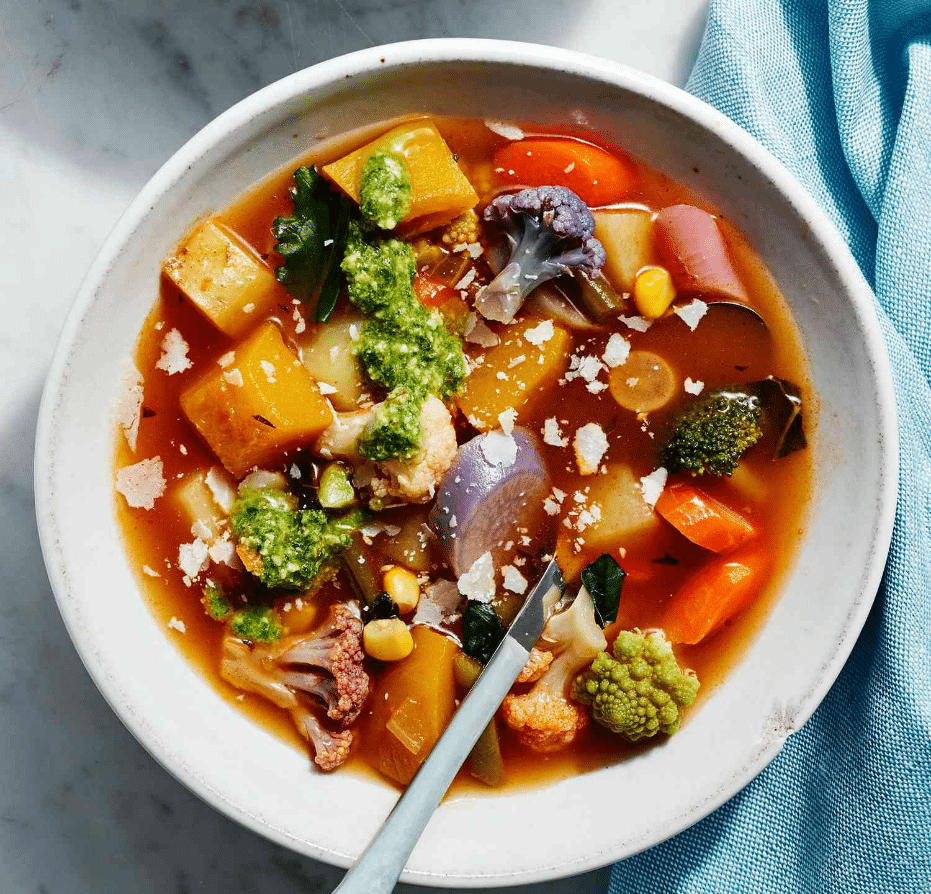 Minestrone Soup: A hearty Italian soup loaded with vegetables, beans, and pasta. It's rich in fiber, vitamins, and minerals.
Lentil Soup: Packed with protein and fiber, lentil soup is a great option for a filling and nutritious meal. Add plenty of veggies for extra nutrients.
Tomato Basil Soup: A classic favorite made with fresh tomatoes and basil. It's low in calories and rich in antioxidants.
Curried Cauliflower Soup: Cauliflower is the star in this soup, and the addition of curry spices gives it a wonderful flavor while providing anti-inflammatory benefits.
Spinach and White Bean Soup: This soup combines the goodness of leafy greens with protein-rich white beans. It's a great source of iron, fiber, and vitamins.
Vegetable Barley Soup: Barley adds a chewy texture and is high in fiber. Combine it with a variety of vegetables for a well-rounded soup.
Creamy Broccoli Soup: A velvety soup that's full of vitamins and minerals from the broccoli. Opt for a creamy texture using ingredients like cashews or potatoes.
Sweet Potato and Black Bean Soup: Sweet potatoes and black beans create a harmonious blend of flavors and provide a good dose of fiber, potassium, and protein.
Mushroom and Wild Rice Soup: Mushrooms add a rich, earthy flavor while wild rice contributes complex carbohydrates and a nutty taste.
Thai Coconut Vegetable Soup: A coconut milk-based soup with a mix of colorful vegetables and Thai spices. It's both comforting and satisfying.
Remember that you can adjust these recipes to your taste preferences and dietary needs. Using a variety of vegetables, legumes, whole grains, and herbs will help ensure you're getting a range of nutrients in your diet. Enjoy your journey to a healthier lifestyle with these delicious vegetarian soups!
Also you can check this website for another content about vegetarian soup suggestions for detailed informations. If you want to have information about "Vegan-Friendly Variation of Vegetarian 15 Bean Soup Recipe" you can check our content.