Are you ready for a delightful culinary journey that combines healthy and delicious? Look no further than our Vegetarian Stuffed Peppers Recipe! Packed with flavorful ingredients, this dish will not only satisfy your cravings but also leave you wanting more. Join us as we share this mouthwatering recipe and step-by-step instructions to create a wholesome meal that's perfect for any occasion.
Vegetarian Stuffed Peppers Recipe Ingredients:
4 large bell peppers (any color)
1 cup cooked quinoa
1 can (15 oz) black beans, drained and rinsed
1 cup corn kernels (fresh, frozen, or canned)
1 cup diced tomatoes
1 cup shredded cheddar cheese
1/2 cup diced red onion
2 cloves garlic, minced
1 teaspoon chili powder
1/2 teaspoon cumin
Salt and pepper to taste
Fresh cilantro leaves for garnish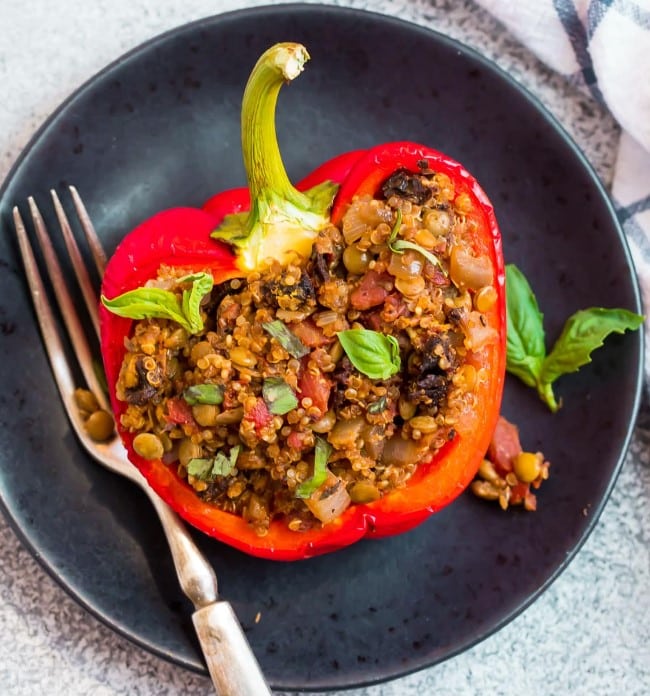 Vegetarian Stuffed Peppers Recipe Instructions:
Preheat the Oven: Preheat your oven to 375°F (190°C).
Prepare the Bell Peppers: Cut the tops off the bell peppers and remove the seeds and membranes. Rinse them under cold water.
Prepare the Filling: In a large bowl, combine the cooked quinoa, black beans, corn, diced tomatoes, shredded cheddar cheese, diced red onion, minced garlic, chili powder, cumin, salt, and pepper. Mix well until all ingredients are evenly combined.
Stuff the Peppers: Carefully stuff each bell pepper with the quinoa and vegetable mixture, pressing down gently to pack the filling.
Bake: Place the stuffed peppers in a baking dish and cover with foil. Bake in the preheated oven for about 25-30 minutes or until the peppers are tender.
Serve: Once the peppers are cooked to your liking, remove them from the oven. Garnish with fresh cilantro leaves and serve hot.
Recommended Recipe: Traditional and Creative Vegetarian Christmas Recipes
These Vegetarian Stuffed Peppers are a fantastic way to enjoy a wholesome and satisfying meal that's rich in flavor. Whether you're a vegetarian or just looking to add more plant-based dishes to your diet, this recipe is sure to become a favorite. Try it today and discover the joy of healthy, delicious eating.