Looking for a delectable and meatless Thai dish that's packed with flavor? Your search ends here with our "Vegetarian Pad Thai Recipe." In this blog post, we'll guide you through creating an easy and flavorful Pad Thai dish that's both satisfying and vegetarian-friendly. Get ready to embark on a culinary journey to Thailand in the comfort of your own kitchen!
Vegetarian Pad Thai Recipe Ingredients:
For this mouthwatering Vegetarian Pad Thai Recipe, you will need:
For the Pad Thai Sauce:
3 tablespoons of tamarind paste
2 tablespoons of soy sauce
2 tablespoons of brown sugar
1 tablespoon of rice vinegar
1 teaspoon of chili paste (adjust to your spice preference)
1/4 cup of vegetable broth or water
For the Pad Thai Noodles:
8 ounces of rice noodles
2 tablespoons of vegetable oil
3 cloves of garlic, minced
1 cup of cubed tofu (extra firm)
1 cup of bean sprouts
1 cup of sliced bell peppers (a mix of colors)
1 cup of sliced carrots
2 green onions, chopped
Chopped peanuts for garnish
Lime wedges for serving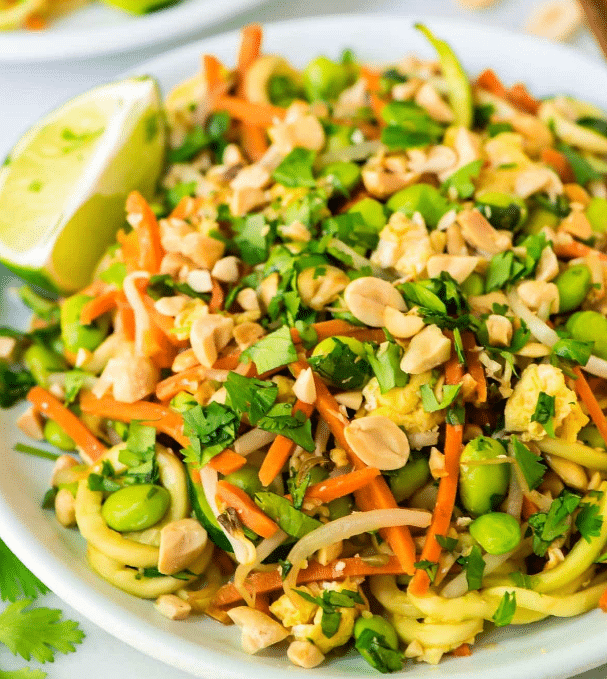 Vegetarian Pad Thai Recipe Instructions:
1. Prepare the Pad Thai Sauce:
In a small bowl, whisk together the tamarind paste, soy sauce, brown sugar, rice vinegar, chili paste, and vegetable broth (or water). Set aside.
2. Cook the Rice Noodles:
Cook the rice noodles according to the package instructions. Drain, rinse with cold water, and set aside.
3. Stir-Fry the Vegetables and Tofu:
In a large skillet or wok, heat the vegetable oil over medium-high heat. Add the minced garlic and cubed tofu. Stir-fry for 2-3 minutes until the tofu is lightly browned.
Add the sliced bell peppers and carrots to the skillet. Stir-fry for another 3-4 minutes until the vegetables begin to soften.
4. Combine Everything:
Push the tofu and vegetables to one side of the skillet. Pour the prepared Pad Thai sauce into the empty side of the skillet. Allow it to simmer for a minute or two until it thickens slightly.
Add the cooked rice noodles to the skillet and toss everything together, ensuring that the noodles are well-coated with the sauce.
5. Finish and Serve:
Stir in the bean sprouts and chopped green onions. Cook for an additional 2 minutes until the bean sprouts are slightly wilted.
Remove the skillet from heat and serve your easy and flavorful Vegetarian Pad Thai hot.
Garnish with chopped peanuts and offer lime wedges on the side for squeezing over the Pad Thai.
Recommended Recipe: Quick and Healthy Vegetarian Ramen Recipe
Now you have a plate full of easy and flavorful Vegetarian Pad Thai, ready to transport your taste buds to the streets of Thailand. Whether you're a Thai food enthusiast or trying it for the first time, this Pad Thai recipe is sure to satisfy your cravings for delicious and exotic flavors. Dive in and enjoy every forkful of this homemade masterpiece!