If you're a fan of Mexican cuisine and looking for a mouthwatering meatless option, our Vegetarian Enchilada Recipe has you covered. In this blog post, we'll guide you through creating a cheesy and flavorful enchilada dish that's sure to satisfy your taste buds. Get ready to indulge in layers of deliciousness with this comforting meal!
Vegetarian Enchilada Recipe Ingredients:
For this scrumptious Vegetarian Enchilada Recipe, you will need:
For the Enchilada Sauce:
2 tablespoons of vegetable oil
2 tablespoons of all-purpose flour
2 tablespoons of chili powder
1 teaspoon of ground cumin
1 teaspoon of dried oregano
1/2 teaspoon of garlic powder
1/4 teaspoon of salt
1/4 teaspoon of black pepper
2 cups of vegetable broth
1 can (14 ounces) of crushed tomatoes
2 teaspoons of sugar (optional, to balance acidity)
For the Enchilada Filling:
1 cup of cooked black beans
1 cup of cooked corn kernels (fresh, frozen, or canned)
1 cup of diced bell peppers (a mix of colors)
1 cup of diced red onion
2 cups of shredded Monterey Jack or cheddar cheese
8 small flour tortillas
For Garnish:
Fresh cilantro leaves
Sliced jalapeños (optional)
Sour cream (optional)
Sliced avocado (optional)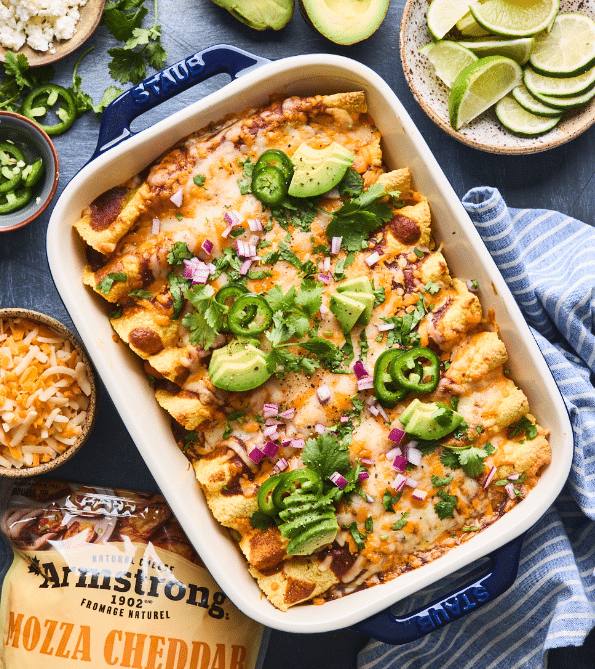 Vegetarian Enchilada Recipe Instructions:
1. Prepare the Enchilada Sauce:
In a saucepan, heat the vegetable oil over medium heat. Add the all-purpose flour and whisk continuously for about 1 minute to create a roux.
Stir in the chili powder, ground cumin, dried oregano, garlic powder, salt, and black pepper. Cook for an additional 1-2 minutes to toast the spices.
Gradually pour in the vegetable broth while whisking to create a smooth sauce.
Add the crushed tomatoes and sugar (if using). Stir well and let the sauce simmer for 10-15 minutes, allowing it to thicken. Set aside.
2. Prepare the Enchilada Filling:
In a mixing bowl, combine the cooked black beans, corn kernels, diced bell peppers, and diced red onion.
3. Assemble the Enchiladas:
Preheat your oven to 375°F (190°C).
Take a tortilla and spoon some of the vegetable and bean filling onto it. Sprinkle with shredded cheese.
Roll the tortilla tightly and place it seam-side down in a baking dish. Repeat this process for all tortillas.
Pour the enchilada sauce evenly over the rolled tortillas. Sprinkle with any remaining cheese.
Bake in the preheated oven for 20-25 minutes or until the enchiladas are heated through, and the cheese is melted and bubbly.
4. Garnish and Serve:
Remove the enchiladas from the oven and garnish with fresh cilantro leaves. If you like a bit of heat, add sliced jalapeños as well.
Serve your cheesy and flavorful Vegetarian Enchiladas with optional sides like sour cream and sliced avocado.
Recommended Vegetarian Recipe: Crowd-Pleasing Vegetarian Polenta Recipes
Now you have a plate full of cheesy and flavorful Vegetarian Enchiladas, ready to delight your taste buds with every bite. Whether you're a vegetarian or simply looking for a satisfying and meatless Mexican meal, this enchilada recipe will quickly become a favorite. Enjoy the comforting taste of homemade goodness!