Vegetarian Breakfast Burrito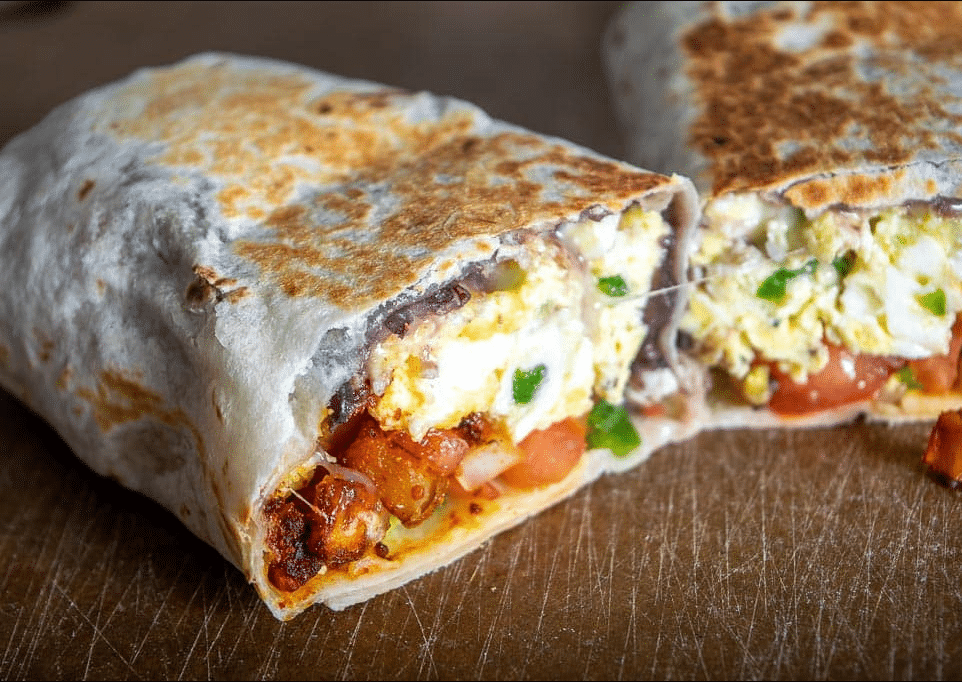 Ingredients:
For the Burrito Filling:
1 tablespoon olive oil
1 cup diced bell peppers (assorted colors)
1/2 cup diced red onion
1 cup diced tomatoes
1 cup canned black beans, drained and rinsed
1 teaspoon ground cumin
1/2 teaspoon chili powder (adjust to taste)
Salt and pepper to taste
4 large eggs (or tofu for a vegan option), scrambled
For Assembly:
4 large whole wheat or spinach tortillas
1 cup grated cheddar cheese (or vegan cheese)
Salsa, avocado slices, Greek yogurt (or non-dairy yogurt), and chopped fresh cilantro for serving
Instructions:
Prepare the Burrito Filling:

In a large skillet, heat olive oil over medium heat. Add diced bell peppers and red onion. Sauté until they start to soften, about 3-4 minutes.
Add diced tomatoes, black beans, ground cumin, chili powder, salt, and pepper. Cook for another 3-4 minutes until the mixture is heated through and well combined.

Scramble Eggs (or Tofu):

Push the vegetable mixture to the side of the skillet, creating a space for the eggs (or tofu). Scramble the eggs (or crumbled tofu) in the open space until cooked through. Mix them with the vegetable mixture.

Warm Tortillas:

Heat the tortillas according to the package instructions to make them pliable.

Assemble the Burritos:

Place a tortilla on a flat surface. Place a portion of the egg (or tofu) and vegetable mixture in the center of the tortilla.
Sprinkle grated cheese over the filling.

Fold the Burritos:

Fold the sides of the tortilla over the filling, then roll it up from the bottom to create a burrito shape.

Serve:

Serve the vegetarian breakfast burritos with salsa, avocado slices, a dollop of Greek yogurt (or non-dairy yogurt), and chopped fresh cilantro on the side.

Enjoy:

Enjoy your delicious and nutritious vegetarian breakfast burritos!
Feel free to customize the filling by adding ingredients like sautéed spinach, mushrooms, or any other veggies you prefer. You can also adjust the spices to your taste preferences. This recipe provides a balanced mix of protein, fiber, and healthy fats to keep you satisfied throughout the morning.
Also you can check this website for another option. An for our another recipe, you can take a look to our content.