Are you looking for a hearty and delicious soup recipe that doesn't include any meat? Look no further than this Vegetarian 15 Bean Soup Recipe! Packed with protein and full of flavor, this soup is perfect for those chilly winter nights or when you're just in need of some comfort food. Whether you're a seasoned vegetarian or simply trying to incorporate more plant-based meals into your diet, this recipe is sure to satisfy your taste buds.
Vegetarian 15 Bean Soup Recipe Ingredients
To make this Vegetarian 15 Bean Soup Recipe, you will need the following ingredients:
1 pound of 15 bean mix
1 onion, diced
3 cloves of garlic, minced
2 carrots, peeled and chopped
2 stalks of celery, chopped
1 can of diced tomatoes
4 cups of vegetable broth
2 teaspoons of smoked paprika
1 teaspoon of cumin
1 teaspoon of dried thyme
Salt and pepper to taste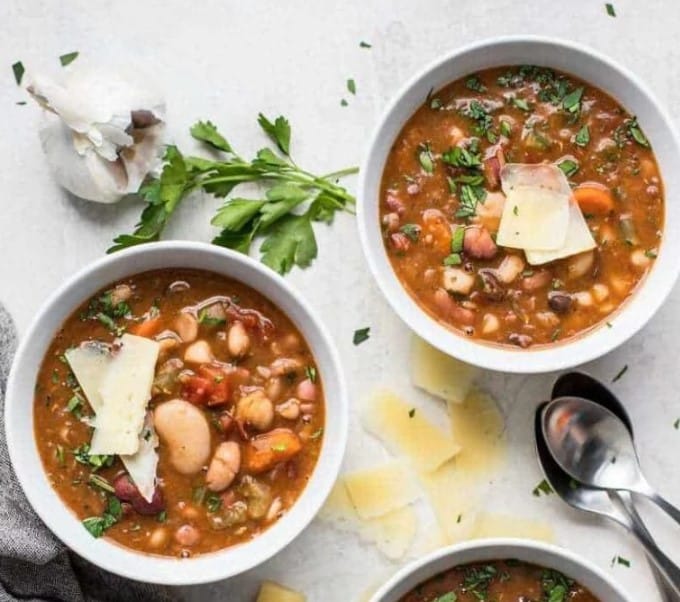 Vegetarian 15 Bean Soup Recipe Directions
Now that you have gathered all the necessary ingredients, let's get started on the directions:
| | |
| --- | --- |
| Step 1: | Start by rinsing the 15 bean mix under cold water. Discard any debris or broken beans. |
| Step 2: | In a large pot, heat some olive oil over medium-high heat. Add the diced onion, minced garlic, chopped carrots, and celery. Sauté until the vegetables are tender. |
| Step 3: | Add the rinsed 15 bean mix, diced tomatoes, vegetable broth, smoked paprika, cumin, dried thyme, and salt and pepper to the pot. Stir to combine. |
| Step 4: | Bring the mixture to a boil, then reduce the heat to low. Cover the pot and let the soup simmer for about 1 to 1 ½ hours, or until the beans are tender. |
| Step 5: | Once the beans are cooked through, taste the soup and adjust the seasoning as needed. You can add more salt, pepper, or any other herbs and spices to suit your preferences. |
| Step 6: | Serve the Vegetarian 15 Bean Soup hot and enjoy it with some crusty bread or a side salad. This soup is even better the next day, so go ahead and make a big batch to enjoy throughout the week! |
Recommended Content: How To Make Delightful Vegetarian Turnip Greens Recipe?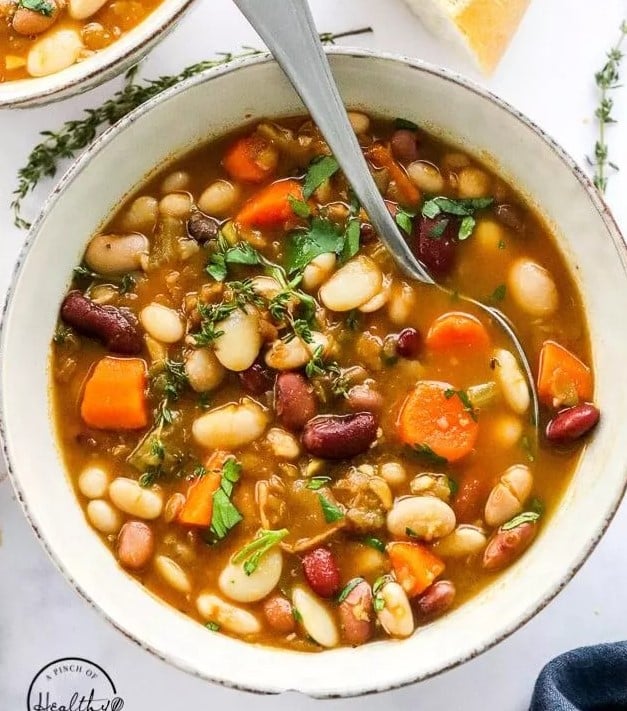 This Vegetarian 15 Bean Soup Recipe is both nutritious and delicious. The combination of different beans, vegetables, and spices creates a flavorful soup that will warm you up from the inside out. Plus, it's a great option for those following a vegetarian or plant-based diet. So, give this recipe a try and let us know how you like it!