Vegetarian Protein Salad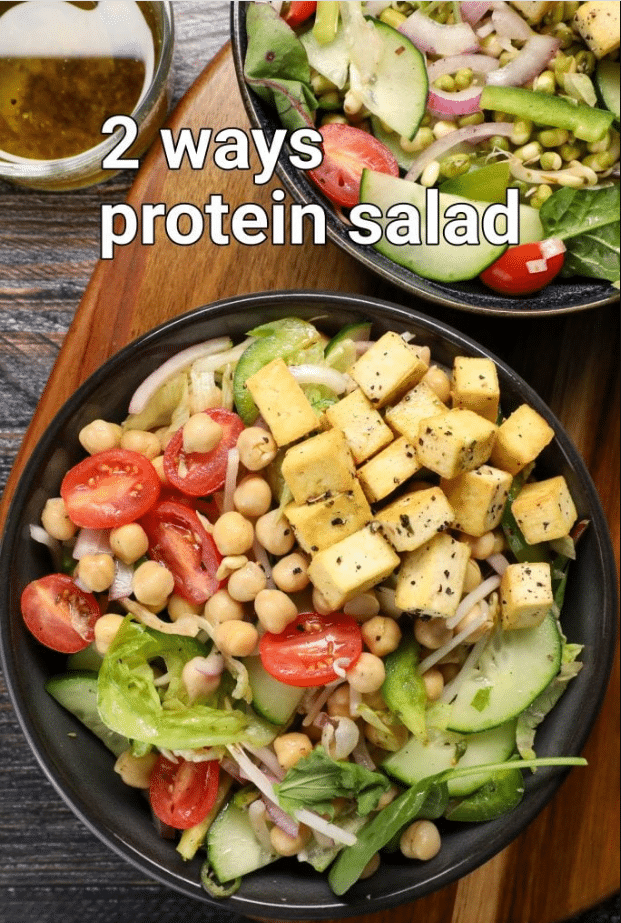 Ingredients:
For the Salad:
2 cups mixed salad greens (spinach, arugula, lettuce, etc.)
1 cup cooked quinoa (cooled)
1 cup canned chickpeas (drained and rinsed)
1 cup diced cucumber
1 cup cherry tomatoes, halved
1/2 cup diced bell peppers (assorted colors)
1/4 cup finely chopped red onion
1/4 cup chopped fresh parsley or cilantro
For the Dressing:
3 tablespoons extra-virgin olive oil
2 tablespoons freshly squeezed lemon juice
1 clove garlic, minced
1 teaspoon Dijon mustard
Salt and pepper to taste
Optional Protein Additions:
1/2 cup crumbled feta cheese or diced avocado
1/4 cup toasted pumpkin seeds or chopped nuts (almonds, walnuts, etc.)
Instructions:
Prepare the Salad:

In a large salad bowl, combine the mixed salad greens, cooked quinoa, chickpeas, cucumber, cherry tomatoes, bell peppers, red onion, and fresh herbs.

Make the Dressing:

In a small bowl, whisk together the olive oil, lemon juice, minced garlic, Dijon mustard, salt, and pepper until well combined.

Assemble the Salad:

Drizzle the dressing over the salad ingredients in the bowl.

Toss and Serve:

Gently toss all the ingredients in the bowl to coat them with the dressing.

Add Protein and Garnish:

If desired, add the optional protein additions such as crumbled feta cheese or diced avocado, and toasted pumpkin seeds or chopped nuts.

Enjoy:

Serve the vegetarian protein salad immediately as a nutritious and filling meal.
This Vegetarian Protein Salad is packed with plant-based protein from quinoa and chickpeas, and it's loaded with fiber and nutrients from the vegetables. The olive oil-based dressing adds healthy fats and great flavor. Remember to adjust portion sizes according to your weight loss goals, and feel free to customize the ingredients to your preferences.
To make Vegetarian Protein Salad even more satisfying, you can pair it with a side of whole-grain bread or a small serving of hummus and whole-grain crackers.
Also you can check this website for an option about same content.