Indulge in the delectable flavors of a truly remarkable dish with this enticing Vegetarian Goulash Recipe. Bursting with a medley of vibrant vegetables, aromatic herbs, and savory spices, this hearty meal redefines comfort food. Embark on a culinary journey that marries the richness of traditional goulash with the goodness of vegetarian ingredients, resulting in a symphony of tastes and textures that will leave you craving more. Delve into a bowl of this wholesome goulash, where tender beans, lentils, and an array of meticulously selected vegetables unite, creating a dish that is not only satisfying but also a celebration of culinary artistry.
Vegetarian Goulash Recipe Ingredients: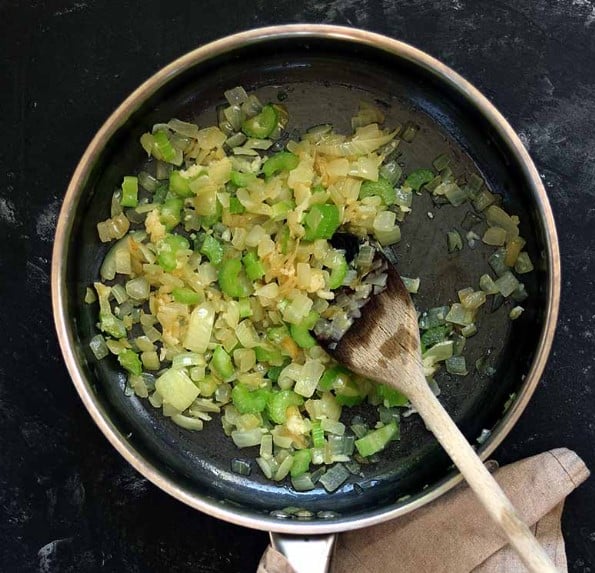 2 tablespoons olive oil
1 large onion, diced
2 cloves garlic, minced
1 red bell pepper, diced
1 yellow bell pepper, diced
2 carrots, peeled and sliced
2 potatoes, peeled and diced
1 can (14 oz) diced tomatoes
2 tablespoons tomato paste
2 cups vegetable broth
1 teaspoon paprika
1/2 teaspoon caraway seeds (optional)
1/2 teaspoon dried thyme
1/2 teaspoon marjoram
Salt and pepper to taste
1 cup cooked kidney beans (canned or cooked from dry)
1 cup cooked lentils
Chopped fresh parsley, for garnish
Vegetarian Goulash Recipe Instructions: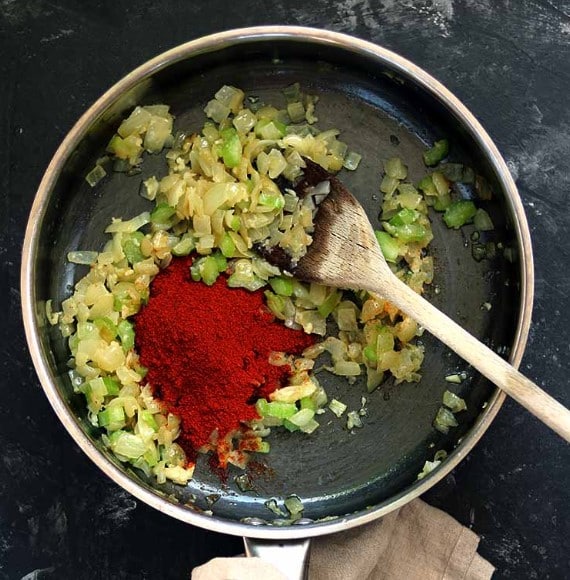 Heat the olive oil in a large pot over medium heat. Add the diced onion and sauté until it becomes translucent.
Add the minced garlic and sauté for another 30 seconds until fragrant.
Stir in the diced red and yellow bell peppers, sliced carrots, and diced potatoes. Cook for about 5 minutes, stirring occasionally.
Add the diced tomatoes, tomato paste, vegetable broth, paprika, caraway seeds (if using), dried thyme, and marjoram. Stir well to combine.
Season with salt and pepper to taste. You can start with a small amount and adjust later if needed.
Cover the pot and let the goulash simmer on medium-low heat for about 20-25 minutes, or until the vegetables are tender.
Add the cooked kidney beans and lentils to the pot and stir to combine. Allow the goulash to simmer for an additional 10 minutes to allow the flavors to meld.
Taste and adjust the seasonings as necessary. Add more paprika, salt, or pepper if desired.
Serve the vegetarian goulash hot, garnished with chopped fresh parsley.
This goulash is delicious on its own, but you can also serve it with crusty bread, rice, or noodles if you prefer.
Recommended Content: 3 Flavorful Vegetarian Paleo Dinner Recipes to Try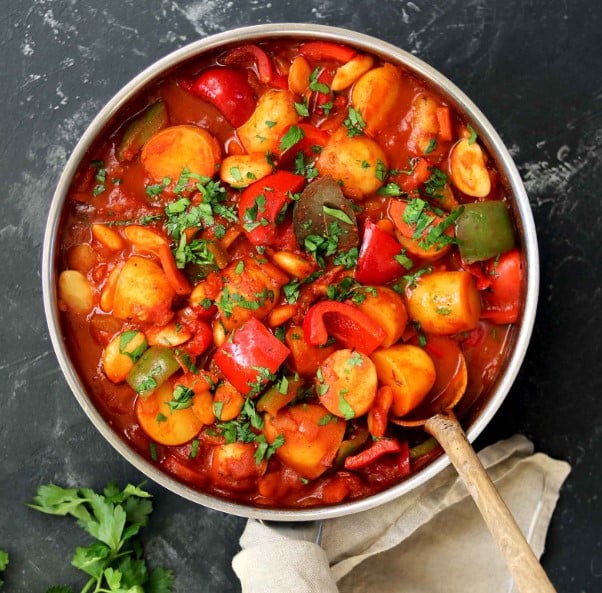 Enjoy your comforting and flavorful vegetarian goulash! Feel free to customize the recipe by adding other vegetables or herbs that you like. If you like our Vegetarian Goulash Recipe, don't forget to check out our other recipes!