Are you a fan of comforting and hearty meals? Then you will love this Russian Mushroom Stroganoff Recipe! A classic dish that originated in Russia, Stroganoff has become a popular comfort food all over the world. This vegetarian version, made with earthy mushrooms, is just as delicious and satisfying as the original. So, let's dive right into the directions and learn how to make this mouthwatering dish!
Russian Mushroom Stroganoff Recipe Ingredients
2 tablespoons olive oil
1 onion, thinly sliced
3 cloves garlic, minced
500g button mushrooms, sliced
2 tablespoons flour
1 cup vegetable broth
1 cup sour cream
2 tablespoons Dijon mustard
Salt and pepper to taste
Fresh parsley for garnish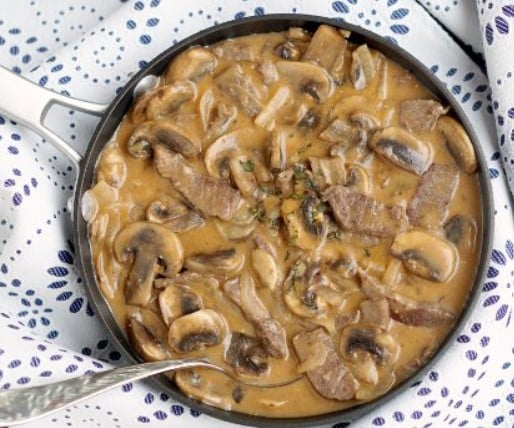 Russian Mushroom Stroganoff Recipe Directions
Heat the olive oil in a large skillet over medium heat. Add the sliced onions and sauté until they become translucent and slightly caramelized.
Add the minced garlic and sliced mushrooms to the skillet. Cook for about 5 minutes or until the mushrooms start to soften and release their juices.
Sprinkle the flour over the mushrooms and stir well to coat them evenly. This will help thicken the sauce.
Pour in the vegetable broth and stir until the flour is fully dissolved. Bring the mixture to a gentle simmer.
Reduce the heat to low and stir in the sour cream and Dijon mustard. Season with salt and pepper to taste. Let the sauce simmer for about 10 minutes, stirring occasionally.
While the sauce is simmering, cook the egg noodles according to package instructions until al dente. Drain and set aside.
Once the sauce has thickened and developed a rich flavor, remove it from the heat.
Serve the mushroom stroganoff over a bed of cooked egg noodles. Garnish with fresh parsley.
This Russian Mushroom Stroganoff Recipe is a real crowd-pleaser. The creamy and flavorful sauce combined with the tender mushrooms and perfectly cooked noodles create a dish that will satisfy even the pickiest eaters. Whether you're a vegetarian or simply looking to add more plant-based meals to your diet, this recipe is a must-try. Serve it as a main course for a cozy family dinner or prepare it for a dinner party with friends. Either way, it's guaranteed to impress!