Discover the perfect blend of indulgence and health with a tantalizing Vegetarian Chimichanga Recipe that brings together the flavors you love while embracing a healthier approach. This dish is a testament to the fact that satisfying your cravings doesn't have to mean sacrificing your well-being. Get ready to savor the rich flavors of a chimichanga made with wholesome, plant-based ingredients.
Vegetarian Chimichanga Recipe -Ingredients:
Whole Wheat Tortillas: Large tortillas for wrapping the filling.
Nutrient-Packed Veggies: A mix of bell peppers, zucchini, and corn, finely chopped.
Protein-Rich Beans: Black beans or pinto beans, cooked and drained.
Wholesome Grains: Cooked brown rice or quinoa, providing substance.
Flavorful Spices: A blend of cumin, paprika, and chili powder for that signature taste.
Zesty Lime: Zest and juice of 1 lime, adding a burst of freshness.
Fresh Herbs: Chopped cilantro, enhancing the aroma.
Olive Oil: For sautéing the veggies.
Guilt-Free Cooking Spray: For achieving a crispy finish without excess oil.
Toppings Galore: Sliced avocado, salsa, Greek yogurt, or vegan sour cream for garnish.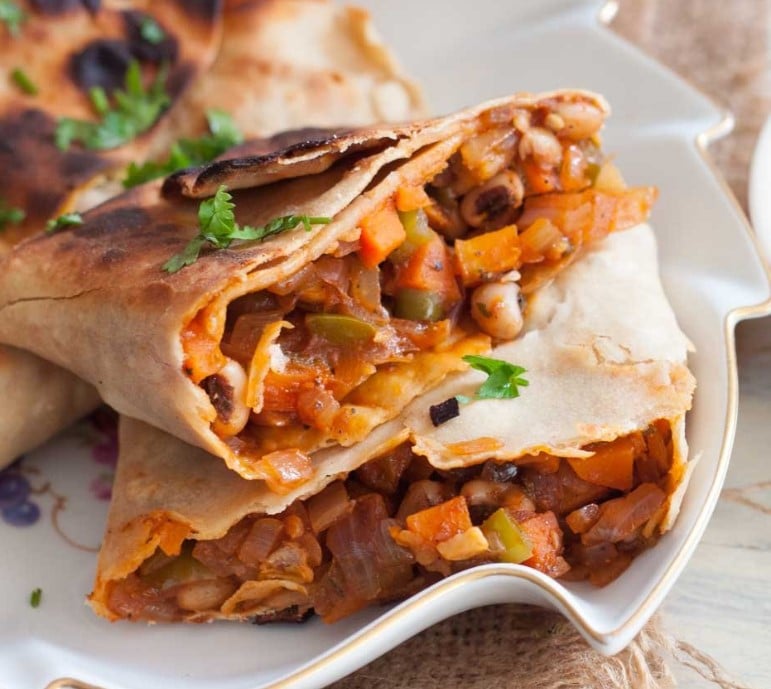 Vegetarian Chimichanga Recipe – Directions
In a skillet, heat olive oil over medium heat. Sauté the chopped bell peppers, zucchini, and corn until they're tender and vibrant.
Add the cooked beans and wholesome grains to the skillet, stirring to combine with the veggies.
Sprinkle in the cumin, paprika, and chili powder, infusing the mixture with delightful spices.
Squeeze in the lime juice and sprinkle in the lime zest, adding a zing of freshness.
Gently fold in the chopped cilantro, ensuring an even distribution of the herb's aroma.
Preheat your oven to 375°F (190°C).
Assemble the chimichangas by spooning the vegetable and bean mixture onto each tortilla, folding in the sides and rolling up tightly.
Place the chimichangas seam side down on a baking sheet lined with parchment paper.
Lightly spray the chimichangas with cooking spray to achieve a crispy finish.
Bake in the preheated oven for about 20 minutes or until the tortillas turn golden and crispy.
Recommended Recipe: Indian Vegetarian Grilling Recipes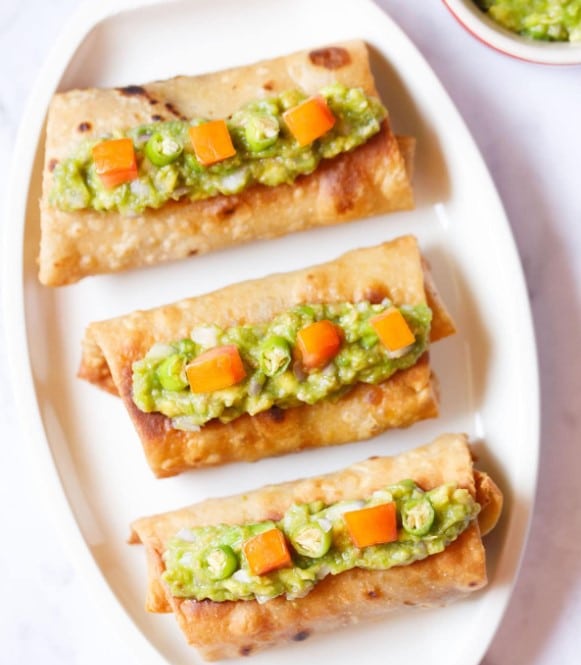 Conclusion: A Balance of Flavor and Wellness
With this Healthy Vegetarian Chimichanga Recipe, you're embracing a balance of flavor and wellness that's perfect for your culinary journey. Each bite is a celebration of vibrant vegetables, hearty grains, and the satisfying crunch of a well-prepared tortilla. As you savor these chimichangas, you're embracing a commitment to nourishing your body while indulging in the joy of good food. So, whether it's a quick weekday dinner or a weekend treat, this recipe has you covered with both taste and health in mind.