Embrace the vibrant flavors of Mexico with a delightful twist that caters to all palates. This Vegetarian Mexican Rice Recipe takes a classic favorite and infuses it with zesty spices, creating a dish that's both satisfying and exciting. Whether you're a dedicated vegetarian or simply seeking a scrumptious meatless option, this recipe is a testament to how a few simple ingredients can transform into a sensational culinary journey.
Vegetarian Mexican Rice Recipe: A Burst of Flavors
This Vegetarian Mexican Rice Recipe is a testament to the way diverse ingredients come together to create a symphony of tastes. The familiar comfort of rice, combined with the boldness of Mexican spices, transports your taste buds to the bustling streets of Mexico City. This dish is a celebration of both tradition and innovation, providing a flavorful option that's perfect as a main course or a hearty side.
Ingredients:
Basmati Rice: 1 cup, cooked to perfection.
Colorful Veggies: 1 cup of mixed bell peppers and corn, diced for vibrancy.
Creamy Black Beans: 1 can, drained and rinsed.
Zesty Tomatoes: 1 cup of diced tomatoes, providing a juicy base.
Aromatic Onions and Garlic: 1 onion and 3 cloves of garlic, finely chopped.
Mexican Spice Blend: 1 tablespoon of chili powder, cumin, and paprika mix.
Heat and Flavor: 1 jalapeño, seeds removed and finely chopped.
Freshness Unleashed: Chopped cilantro and lime wedges for garnish.
Olive Oil: 2 tablespoons for sautéing.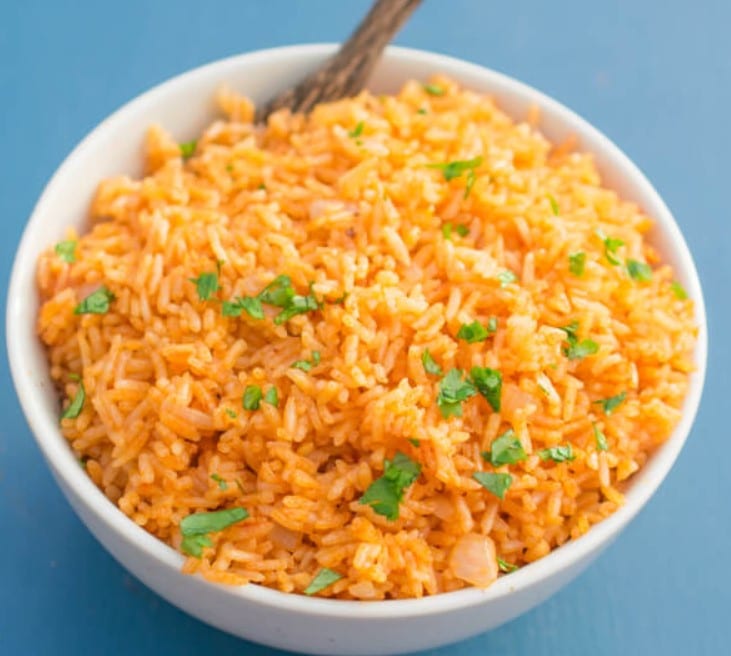 Directions:
Now, let's dive into the steps to create this Vegetarian Mexican Rice Recipe:
Begin by heating olive oil in a skillet over medium heat. Sauté the chopped onions and garlic until they turn translucent, infusing the kitchen with their aromatic essence.
Add the mixed bell peppers and corn, allowing them to cook until slightly softened.
Incorporate the black beans and diced tomatoes, creating a vibrant medley of colors and textures.
Sprinkle in the Mexican spice blend, adding a burst of flavor that's both bold and inviting.
Introduce the cooked basmati rice to the skillet, stirring gently to ensure that the flavors are evenly distributed.
For a touch of heat, add the finely chopped jalapeño, infusing the dish with a tantalizing kick.
Let the flavors meld together over low heat, allowing the rice to absorb the spices and juices.
Once the mixture is thoroughly heated, remove from the heat and garnish with chopped cilantro for a burst of freshness.
Serve your Vegetarian Mexican Rice Recipe with lime wedges on the side, encouraging a zesty squeeze that enhances the experience.
Recommended Recipe: Flavorful Vegetarian Nachos Recipe
Conclusion: A Fiesta of Flavors
Dive into a world of taste and texture with this Vegetarian Mexican Rice Recipe. It's a celebration of the rich culinary heritage of Mexico, reinvented for those who relish both bold flavors and meatless options. With each spoonful, you'll savor the medley of colors, the zest of spices, and the satisfaction of a dish that embraces tradition while offering a contemporary twist. Elevate your mealtime with a feast that's not just a recipe, but a journey—a journey into the heart of Mexico's vibrant cuisine, brought to life in every bite of your very own Vegetarian Mexican Rice Recipe.